Daily Dish: Science of Learning: Studying the Science Behind Interactions in the Classroom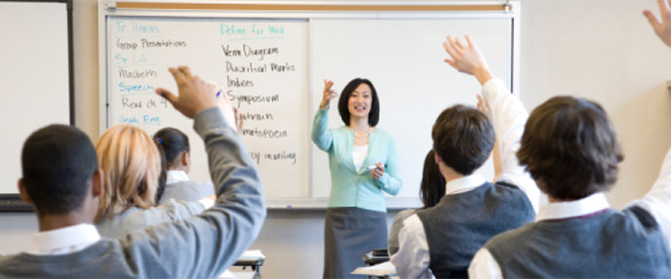 At Washington State University, neuroscientists are studying real-time learning in the classroom to learn more about the science behind interactions between teachers and students. The Educational Neuropsychology Laboratory, which is supported by the National Science Foundation, is "designed to interweave behavioral, academic, social, and neurological data during live class sessions" and is believed to be the only one of its kind in the country, writes Education Week. This type of study is hoping to close the persisting gap that education researchers face between the lab and the real-world classroom.
So how does this work? "Video cameras in the lab record speech and body language, while computer software collects students' work, and an array of instruments track what's happening in the bodies and brains of students and teachers. By recording so many types of information, researchers hope to bridge brain and behavior." Ed Week reports that there are currently more than sixty active studies in the lab, primarily focused on practical problems in schools.
The article notes the importance of this type of work and the possibilities of informing classroom instruction. Joshua Premo, a biology doctoral researcher at Washington State and a former New York teacher, shares some of his study, which focuses on classroom dynamics and breakdowns in communications. He says of the work, "It's really analogous to classrooms. You have a teacher who thinks he's giving correct information to students. The moment you don't have that correct information, and you start going on with the lesson, you've lost the students. It's happening with individual students and the teacher, and in the class as a whole. If you could see exactly where that breakdown was occurring, you could essentially halt class, bring everybody back together, and keep going."
Read the full post: http://www.edweek.org/ew/articles/2016/03/09/neuroscientists-study-real-time-learning-in-classroom-lab.html.
Categories:
Uncategorized