Daily Dish: President Obama has Education on the Mind During Final State of the Union Address #SOTU

January 13, 2016 04:07 pm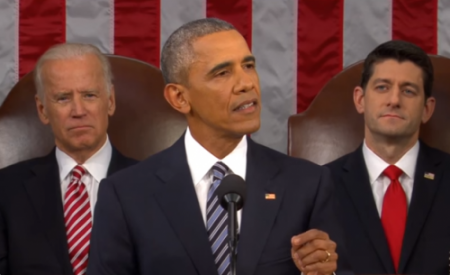 Last night, President Barack Obama delivered his final State of the Union address. During his speech, which you can watch here if you missed it, Obama hit several key education topics, including the nation's new education law, rising graduation rates, and closing the digital divide.
Obama calls the Every Student Succeeds Act (ESSA), which replaced No Child Left Behind, a jumping off point of education reform to being building upon:
"The bipartisan reform of No Child Left Behind was an important start, and together, we've increased early childhood education, lifted high school graduation rates to new highs, and boosted graduates in fields like engineering. In the coming years, we should build on that progress, by providing Pre-K for all, offering every student the hands-on computer science and math classes that make them job-ready on day one, and we should recruit and support more great teachers for our kids," he said.
As Education Week's Politics K-12 blog points out, it may end up that the next administration will move (or not) on these initiatives, and "the Obama administration will likely spend the next year setting the stage for work, in part through early implementation of ESSA."
Unfamiliar with ESSA? Visit all4ed.org/ESSA for everything you need to know about the new education law, including short videos and easy-to-digest fact sheets on several key areas within the bill.
Although the national high school graduation rate is at an all-time high, one in five high school students still fails to earn a high school diploma on time. The Alliance recently released data showing the potential economic benefits if the national graduation rate reached 90 percent, including: creating 65,150 new jobs, boost gross domestic product by $11.5 billion annually, increase annual earnings by $7.2 billion, and more. Discover the #GradEffect for your state or over 200 metropolitan areas at impact.all4ed.org.
Obama praised efforts made to "get more students and low-income Americans online." Politics K-12 explains this as a nod to the modernization of the Federal Communications Commission (FCC)'s E-Rate program, which helps get students connected by bringing internet access to schools and libraries across the country. This expansion of the E-Rate program was a step towards helping to close the digital divide.
This issue of digital equity will be explored during the Alliance's upcoming Digital Learning Day (#DLDay) on February 17. DLDay is an annual event that celebrates great teaching practices and showcases innovative teachers, leaders, and instructional technology programs that are improving student outcomes. To learn more, and find out how you can participate, visit: www.digitiallearningday.org.
One of Obama's education priorities for his remaining year in office is expanding access to computer science classes for all students. But "getting a new, complex, technical subject onto the agendas of our public schools is a massive challenge," says NPR Ed. Reporter Anya Kamenetz gathered together different voices on this topic, ranging from the student to the city builder, with many in-between. Hear their perspectives: http://www.npr.org/sections/ed/2016/01/12/462698966/the-president-wants-every-student-to-learn-computer-science-how-would-that-work.