Daily Dish: New Studies on High School Graduates and Dropouts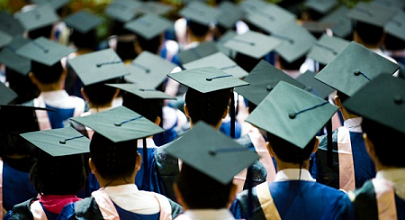 A new study sheds light on literacy, math, and technology skills of American adults when compared to other countries. NPR reports on the study, called the Program for International Assessment of Adult Competencies, which sheds light on the different skill levels of high school graduates versus dropouts in the U.S. and countries in the Organization for Economic Co-operation and Development (OECD).
American young adults with degree levels of a high school diploma or less performed significantly worse in the category of everyday literacy skills than adults in other countries with the same education level. Peggy Carr, the acting commissioner of the government's National Center for Education Statistics, tells NPR that the results show that "we have young people coming out of high school — or not graduating from high school — that are struggling with everyday competencies." For math skills, the study found that "Americans with a high school diploma performed about the same as high school dropouts in other countries."
Check out the study: http://nces.ed.gov/pubs2016/2016039.pdf.
Christian Science Monitor reports on a new Brookings Institute paper that establishes a connection between income inequality and graduation rates. The research, Income Inequality, Social Mobility, and the Decision to Drop Out Of High School, shows that students from low-income families who attend school with students from middle class families are considerably more likely to drop out of high school than students from low-income families who attend school primarily with students from the same socio-economic bracket. The study also shows that children, especially boys, from low-income families that live in a high-inequality community are four percent more likely to drop out of high school by the age of 20.
The authors of the report, Brookings fellow and University of Maryland economics professor Melissa Kearney and Wellesley economics professor Phillip Levine, explain that these students from low-income families see middle-class life as unattainable, and therefore experience a detachment from their futures. The article says, "Teens, like everyone else, make decisions based on their perceived returns of investment in completing high school. If they perceive that the ladder between their socioeconomic position and the middle class is insurmountable, then they lose hope for eventual success. [The authors] coin this disposition as 'economic despair.'"
The authors of the study explain that the findings present opportunities to inform future education policy to combat this effect. They give several examples including mentoring programs that help students to see possibilities for their future and a path to graduation, and early childhood programs that help parents to create a nurturing and positive environment at home.
Reducing the number of high school dropouts has major potential economic benefits on communities, states, and the nation as a whole. According to data released by the Alliance, if the national graduation rate had been 90 percent for the class of 2013, meaning 610,000 more graduates, the country would have benefitted from 65,150 new jobs, annual earnings would have increased by $7.2 billion, annual spending would have increased by $5.3 billion, among several other factors. This graduation effect data is also available for individual states and over 200 metro areas. Learn more at: impact.all4ed.org.
Categories:
Uncategorized