Daily Dish: New Report Shows High School Graduation Rates Rising – Informs Conversation on #NextGenHS

November 10, 2015 05:44 pm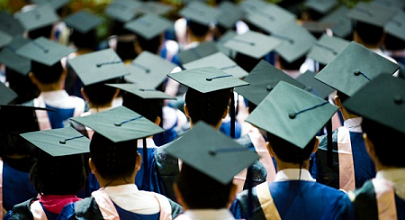 Today the Alliance released a new report showing that the number of high school dropouts decreased from 1 million in 2008 to approximately 750,000 in 2012. The findings also show that the number of "dropout factories," or high schools where less than 60 percent of students make it to their senior year, decreased from around 2,000 in 2002 to a little over 1,000 in 2014. The report, which is a joint effort by the Alliance, America's Promise Alliance, Civic Enterprises, and Everyone Graduates Center, credits this improvement to state and local efforts, and federal requirements that are absent from the current attempt to reauthorize the Elementary and Secondary Education Act (ESEA). The report, Progress Is No Accident: Why ESEA Can't Backtrack on High School Graduation Rates, calls on Congress to build on the effective policies currently in place as they work to rewrite ESEA.
In a Washington Post article about the report, Alliance President Bob Wise attributes some of the improvements in graduation rates to federal regulations, put in place in 2008, requiring states to take action in schools where subgroups of students have chronicially low graduation rates. The article notes that the House and Senate versions of ESEA require states to report graduation rates, but do not require the states to take action to aid low-performing student subgroups. Wise insists that action is required in schools where fewer than two-thirds of students graduate on time. In a press release about the report, Wise says: "Federal policy and local action are working; data and dedication are making diplomas…but with more than 4,000 students still dropping out per school day, now is not the time for the federal government to take its foot off the high school graduation rate pedal."
The report shows that a lot of work remains, with one out of five students still not graduating from high school on time. There are also major gaps between white students and students of color and students from low-income families. Some of these gaps are more than 15 percentage points between these groups. In addition, students of color and students from low-income familes disproportionately attend schools that fail to graduate one-third or more of their students, according to the report.
And yet, raising the graduation rate for just one high school class to 90 percent would have a huge impact on society, creating 65,700 new jobs and increasing the national economy by as much as $10.9 billion annually, the report notes. Wise expands on this, saying, "High school graduates earn, on average, $15,000 more annually than dropouts…That's great news for the individual graduates but also for the economy, as additional earnings are not going under a mattress; they will be used to purchase automobiles, homes, groceries, clothing, and more, fueling state and local economies." The report is evidence that progress is clearly being made, but that efforts must continue to keep the rates on the rise.
The report was released in conjunction with today's White House Summit on Next Generation High Schools. As Politico's Morning Education notes, the summit brought together teachers, students, entrepreneurs, and others who are working to revamp the traditional high school experience. During the summit, Alliance President Bob Wise led a panel of educators who discussed deeper learning, STEM education, career pathways, and inspiring passion in students, and how to scale effective practices across districts. Watch the video here: https://youtu.be/Rke80SajzYk?t=5h2m.
The twitter-sphere was a buzz with comments and conversation throughout the summit through the hashtag #NextGenHS.
.@BobWise48 leads panel on scaling effective practices across districts at #NextGenHS Summit https://t.co/OBNLtqt5sU pic.twitter.com/NnsieNKaCU

— All4ed (@All4Ed) November 10, 2015
Albemarle VA supe Pam Moran: a lot of kids don't need remediation, they needed a passion to keep them in school. #NextGenHS — Catherine Gewertz (@cgewertz) November 10, 2015
#FutureReady Schools effort gets a shout-out at the @WhiteHouse #NextGenHS Summit! Learn more at: https://t.co/6bZFAbX4RE — Future Ready (@FutureReady) November 10, 2015
"Set the aspirations. Agree on the common outcomes. Encourage teachers and students. Take risks." #NextGenHS #LinkedLearning @WhiteHouse

— iLinkedLearning (@iLinkedLearning) November 10, 2015
Last night, in advance of the summit, the Alliance and Change the Equation hosted a screening of selections and unseen footage from the film Most Likely to Succeed. Audience members enjoyed excerpts showing the successes of different school districts and the inspirational stories shared by teachers and students. This sparked conversation about the change needed within the American education system to recalibrate learning and transform high schools to be "Next Generation," but work for these students now. A panel led by Bob Wise featured Roberto Rodríguez, deputy assistant to the president for education, White House Domestic Policy Council; Ted Dintersmith, executive producer of Most Likely to Succeed; Linda Rosen, chief executive officer at Change the Equation; and Edward Brown, a graduate of Springfield Renaissance School (MA). Archived video of the event is available at: http://bit.ly/20xIl1W.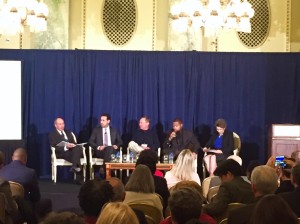 U.S. Senator Tammy Baldwin addressed the crowd about the importance of a high school diploma, creating learning environments where students are able to ask questions, and that children are able to get the support and investment they need to achieve their dreams. Most Likely to Succeed's Ted Dintersmith discussed the importance of failure, and how learning to accept failure early on can be critical for success in students' futures. In Morning Education's mention of the screening, Politico quotes Dintersmith, as saying: "There's absolutely a large amount of interest in re-imagining what schools could be about…People are ready for an inspiring leap to something that would be far more in line with students learning in a meaningful way."