Daily Dish: Increasing Diversity in Schools to Improve Student Outcomes

February 09, 2016 03:09 pm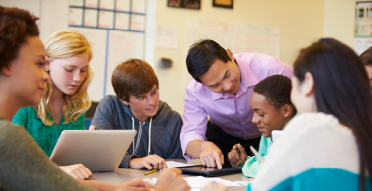 More school districts and charter school networks in the country are employing tactics to create greater balance among students, as schools are becoming increasingly segregated by race and income. The Washington Post reports on a new study, released yesterday by Century Foundation, that shows ninety-one school districts and charters are using integration methods including magnet schools, weighted lotteries, and alternate school attendance zones to achieve more of a balance. According to Halley Potter, one of the report authors, this number is more than doubled since 2007.
The Post notes that schools are more segregated now than in the 1970s, with over one third of African American and Latino students attending schools that are more than 90 percent non-white. This resegregation of schools is an issue because, as research shows, "children from low-income families — a group that is proportionately more African American and Latino — perform better academically when they attend schools that are not majority-poor," the article notes. These schools with large numbers of students from low-income families "tend to have fewer experienced teachers, fewer challenging courses, inferior facilities, less access to private funding and higher drop-out rates."
One of the methods highlighted in the report is rezoning, a strategy that emphasizes the importance of considering socioeconomic status as well as race in school integration. Chalkbeat New York elaborates on the rezoning method, noting that most elementary schools in New York City enroll students within a geographic area, but often families with similar incomes and backgrounds live near each other, which creates schools full of students with similar race and class. "Redrawing the lines with careful attention to the socioeconomic makeup of surrounding neighborhoods can help balance diversity in schools," Chalkbeat says.
As this focus on school diversity continues, the Obama administration's budget, which was released today, allocates funds to help schools diversify, according to Education Week. These funds, in the amount of $120 million, would be for a new competitive grant program, "Stronger Together," that would aid districts in making schools more socioeconomically integrated. Ed Week says it's tough to say whether or not the grant program will be funded, due to strict spending caps agreed upon by the administration and Congress, but that "next presidential administration could take the idea and run with it."
In a blog post on Medium, Acting Education Secretary John King dove a bit deeper into the "Stronger Together" initiative, explaining that the grants would "support communities that wish to explore new possibilities for increasing diversity, looking carefully at the data and engaging the entire community in developing solutions." The grants would also help with implementation and move these communities forward towards the goal of integration.
King gives plenty of evidence for the creation of this program, including that students from high-income families are six times more likely than students from low-income families to graduate from college. "We need all our children on a path to achievement. That's why we need to do more to ensure families and communities can offer students opportunities to learn to work together in school as they will need to in their lives ahead," King says. "In today's economy, diversity isn't some vague ideal. It's a path to better outcomes for all of America's children."
Stay tuned for an update on education highlights in the President's fiscal year 2017 budget request in this week's episode of Federal Flash. For an email alert when the episode is available, send a message to: alliance@all4ed.org.
Categories:
Uncategorized