Daily Dish: Highlights from the U.S. Department of Education Meeting on #ESSA

January 11, 2016 05:28 pm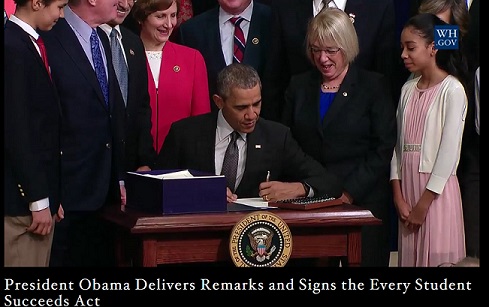 Today the U.S. Department of Education (ED) held a public meeting, giving educators, advocates, and members of the public the opportunity to share regulation recommendations for the Every Student Succeeds Act (ESSA), the new education law that replaced No Child Left Behind (NCLB).
Alliance President Bob Wise was among these speakers, and during his testimony praised high school reform provisions within ESSA, but also urged ED to clarify the law's focus on traditionally underserved students and the nation's lowest-performing high schools. After recognizing the gains made in graduation rates, Wise emphasized that there is much work still left to be done to reduce the number of high school dropouts.
"For the short-term impact on the nation's economy, the Federal Reserve's raising of interest rates has generated a lot of attention, but over the long term, rising graduation rates are much more important for the nation's economy," said Wise. He highlighted persistent graduation gaps, and encouraged ED to ensure that as it works on regulations for ESSA, these issues are addressed.
Specifically, Wise offered five recommendations for ED:
Use the Adjusted Cohort Graduation Rate to implement ESSA's requirement to identify and support high schools where one-third or more of students do not graduate.
Do not allow state accountability systems to mask the graduation rates and achievement of traditionally underserved students, such as students of color, and students from low-income communities.
Require that graduation rates carry sufficient weight within state accountability systems in order to trigger interventions in high schools that have low-graduation rates.
Use funding targeted for school improvement purposes for high-quality interventions in schools that have the lowest-performing students and the most promising approaches for school improvement.
Clarify that states have the flexibility to utilize accountability dashboards, not just indexes, to provide an array of information about school performance and practices, promote transparency, support the continuous improvement of all schools, and allow states to more effectively measure the deeper learning skills and competencies students need to be successful in the modern world.
Read more from Gov. Wise on ESSA here.
Education Week's Politics K-12 blog put together a rundown of requests each of the speakers made, some of which are included below:
Liz King, Leadership Conference on Civil and Human Rights:  Make sure communities of color, low-income communities, tribes, and others have a seat at the table in the development of state accountability plans. Enforce ESSA's requirement that 95 percent of students participate in state tests. And don't allow states to go back to using so-called "super" subgroups of students, which allow states to combine different groups of students for accountability purposes because these mask gaps.
Dane Linn, Business Roundtable: Ensure "opt out" doesn't undermine the accountability systems. Including an asterisk next to a school's letter grade for not meeting participation requirement isn't enough. Failure to set a high bar will allow schools to mask low-performance. Don't let states use statistical techniques (such as big 'n' sizes) to mask gaps. Provide guidance on "much more."
Other highlights were shared on Twitter:
#ESSA regulations. I'm excited to start off speakers & stress K-12 end game by keeping grad rate measures in place. @All4Ed @usedgov

— Bob Wise (@BobWise48) January 11, 2016
#ESSA @usedgov kicks off reg making with public input session. In 2016, feds do regs; states make plans. Big year! pic.twitter.com/HQ9rBB6ZtB

— Bob Wise (@BobWise48) January 11, 2016
.@BobWise48: Don't let states mask low grad rates under #ESSA and make sure schools with really low graduation rates have to get better.

— Politics K-12 (@PoliticsK12) January 11, 2016
.@civilrightsorg's Liz King: Low-income communities, communities of color, tribes, are considered in decision making on #ESSA regs and plans

— Politics K-12 (@PoliticsK12) January 11, 2016
.@usedgov "must ensure that all states have rigorous standards that prepare all students for college & career" – @EdProgress on #ESSA — All4Ed (@All4Ed) January 11, 2016
Flexibility must not equal no accountability #ESSA @GwinnettSToPP @DignityinSchool pic.twitter.com/FoR5aL84Oa — Janel George (@LDFJanel) January 11, 2016
.@DignityinSchool recommends using school discipline guidance of @usedgov & @TheJusticeDept as reference point for related regulations #ESSA

— All4Ed (@All4Ed) January 11, 2016
Looking for more information on the new law? Visit all4ed.org/ESSA for a series of bite-sized materials—both print and video— on several key areas within ESSA.
Categories:
Uncategorized