Daily Dish: High School Graduation Rates on the Rise in Most States

October 20, 2015 06:01 pm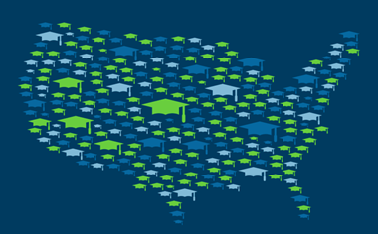 High school graduation rates increased in the 2013-2014 school year in a majority of states, according to preliminary state data released by the U.S. Department of Education. According to The Washington Post, U.S. Education Secretary Arne Duncan said that it looks like the nation is taking another step in the right direction, with these preliminary numbers suggesting the country is on track for a rise in graduation rates for the third year in a row. The rates rose in 36 states, says the Post, with the largest increases in Delaware, Alabama, Oregon. Only a handful of states saw a decline.
In addition, the new data shows the gap between white and African American students narrowed in 28 states and the gap between white and Latino students narrowed in 32 states in 2014. Unfortunately, fewer than half of states saw gaps decrease between English language learners and native English speakers.
The Huffington Post notes that the graduation rate gap between low-income students and their peers stayed the same or increased in more states than it decreased during the 2013-2014 school year. As the article notes, this means that states need to be doing more to close this gap between these low-income students and their wealthier peers. The piece includes a quote from U.S. Secretary Arne Duncan, who acknowledges this disparity for students that often arises from their zip code, in saying:
"The hard work of America's educators, families, communities and students is paying off, particularly after several years of intense work by educators transitioning to new, higher standards. This is a vital step toward readiness for success in college and careers for every student in this country…While these gains are promising, we know that we have a long way to go in improving educational opportunities for every student — no matter their zip code — for the sake of our young people and our nation's economic strength."
As this new state data is released, Education Week covered a new report by the nonprofit Achieve that examines the level of coursework needed to earn a high school diploma from state to state. Although the graduation rates seem to be rising nationwide, the article notes that a high school diploma is not often an indicator of college and career readiness. According to the study, all states have adopted college and career readiness standards (forty four states and the District of Columbia are using Common Core State Standards, and the others are using state-adopted benchmarks). However, twenty states do not offer a diploma that requires students to complete college and career ready level courses.
According to Alissa Peltzman, the vice president for state policy and implementation support for Achieve, in those states, "the bar as a whole is set for all kids at a level below college and career ready…students and parents rely on that diploma as a signal of readiness, but it doesn't mean they're prepared for that next step." Peltzman notes that this is an equity issue, especially when students have to opt-in to the college and career ready track, since first generation college-bound students and those from low-income families may have a tougher time navigating that system than their peers.
Categories:
Uncategorized