Daily Dish: Expanding Computer Science Access to Close Opportunity Gap

February 02, 2016 05:47 pm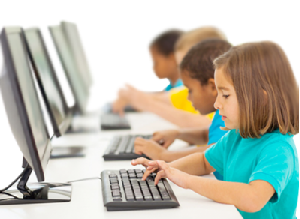 President Obama recently announced his initiative to expand access to computer science in K-12 education. During his weekly address, Education Week reports, Obama called computer science a basic skill, not an optional skill, in today's economy. The president's budget proposal for fiscal year 2017 will include $4 billion for states and $100 million for districts to help bring computer science so that all students have access, including girls and students of color, the article notes. "In many ways, the move is symbolic," guest blogger Liana Heitin writes in the Ed Week piece, "[it's] a way for Obama to reiterate his commitment to STEM and pencil in computer science on the next president's to-do list."
This initiative, called Computer Science for All, would fund teacher training, classroom equipment, and the development of new class materials, according to eSchool News. Obama said: "We have to make sure all our kids are equipped for the jobs of the future – which means not just being able to work with computers, but developing the analytical and coding skills to power our innovation economy." eSchool News notes this effort to expand these opportunities to more students may help to close the growing skills gap that exists in jobs requiring computer programming skills.
"Only a quarter of U.S. K-12 schools offer some kind of computer programming class, and only 28 states even allow computer science to count toward the requirements for graduation," the articles says. The piece goes on to note that only 15 percent of high schools offered an Advanced Placement course in computer science, and only 22 percent of students who took the test were girls, and only 13 percent were African American or Hispanic.
Tom Murray, state and district digital learning director at the Alliance, explores this issue in an opinion piece in EdSurge titled: Breaking the Code: Unleashing the Talents of Our Girls and Students of Color. Murray brings more data around this issue to the table, noting that in eleven states, not a single African American student took the 2013 AP Computer Science Exam, and in eight states, not a single Hispanic student took the exam. In his piece, Murray explores this gap as an access issue, as well as a product of low expectations for both female students and students of color in this area.
"The core of the conversation around computer science isn't about coding," Murray writes, "it's not even about preparing students to be software engineers or 'tech workers.' It's about expanding access and opportunity for all students, empowering them to pursue their passions and unleash their genius." Read his full piece: https://www.edsurge.com/news/2016-02-02-breaking-the-code-unleashing-the-talents-of-our-girls-and-students-of-color.
Categories:
Uncategorized