Daily Dish: Exciting #FutureReady Schools News Announced at White House Event

December 11, 2015 03:53 pm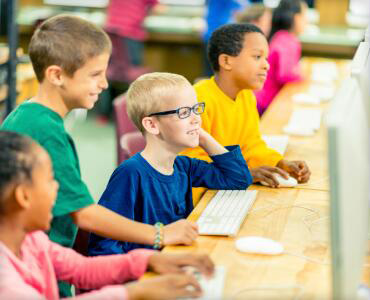 Yesterday was an exciting day for Future Ready Schools, with Alliance President Bob Wise announcing that more than 2,000 school district leaders, representing 16 million students, have taken the Future Ready District Pledge to personalize learning for students using effective digital learning strategies. The announcement took place at the White House in conjunction with the release of the 2016 National Education Technology Plan and celebration of the one-year anniversary of the Future Ready Schools initiative.
At the event, Wise highlighted some key elements of the Future Ready Schools project, including both new and continuing efforts. "Future Ready Schools isn't just about technology," said Wise. "It's about a more personalized approach to teaching and learning that ensures that all students have the skills they need to succeed in college and a career. Future Ready Schools is about empowering teachers and leaders, helping students take charge of their own learning, and keeping parents engaged and informed."
Check out the brand-new splash page of the Future Ready Schools website at www.futureready.org, which features the "Hub," a one-stop shop for school district leaders filled with webinars, interactive chats, expert talks, resources, and other professional development and mentoring opportunities.
Here are highlights from Twitter and some photos from the event:
Today 17 #FutureReady Statewide Initiatives launched to support districts in their transition to digital learning! https://t.co/UKDtg1eODM

— Office of Ed Tech (@OfficeofEdTech) December 10, 2015
#FutureReady #NETP16 pic.twitter.com/s4fGYplnLD — Adriana Moscatelli (@adrimk) December 10, 2015
Check out the 50+ national partners for #FutureReady #NETP16 @All4Ed @BobWise48 pic.twitter.com/MOPABILX9r

— Tom Murray (@thomascmurray) December 10, 2015
Today was a great day for kids. #NETP16#FutureReadypic.twitter.com/FDSTpgG14S — Future Ready (@FutureReady) December 11, 2015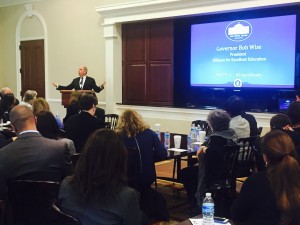 Alliance President Bob Wise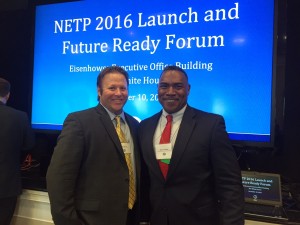 Tom Murray, state and district digital learning director at the Alliance & Darryl Adams, superintendent of Coachella Valley Unified School District
The U.S. Department of Education's 2016 National Education Technology Plan, released at the event yesterday, "outlines a vision of equity, active use, and collaborative leadership to make everywhere, all-the-time learning possible." In a statement about the release, U.S. Education Secretary Arne Duncan noted that this year's update to the National Education Technology Plan "includes a strong focus on equity because every student deserves an equal chance to engage in educational experiences powered by technology that can support and accelerate learning."
As EdTech Magazine highlights, the plan emphasizes the changing role of teachers as technology use in the classroom increases. "Instead of a stand-and-lecture role of teaching, the plan lays out a vision of teachers as 'co-learners' in guided online environments, where they set the pace for students to learn," the article says. Education Week focuses on the plan's call for improved teacher prep, noting how the tech blueprint "places a heavy focus on efforts to improve teacher's preparation to use technology to improve student learning, through steps such as micro-credentialing, and through the expansion of collaborative tech-powered teacher learning platforms."