Daily Dish: Efforts to Identify and Eliminate Chronic Absenteeism

February 22, 2016 03:39 pm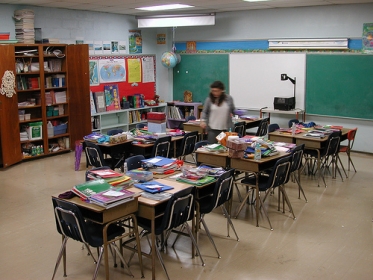 The White House recently announced a new national effort to eliminate chronic absenteeism through the My Brother's Keeper (MBK) Success Mentor Initiative and an Ad Council campaign. A fact sheet released by the White House detailing the new effort noted "chronic absenteeism is a nationwide challenge with devastating consequences for more than five to seven million students, and in low-income communities, the impact is even more prevalent."
The MBK initiative will connect students, in grades six through nine from high needs school districts in ten participating cities, with caring mentors to help eliminate chronic absenteeism, with the goal of reaching over 250,000 students in the next two years. "It is the nation's first-ever effort to scale an evidence-based, data-driven mentor model to reach and support the highest risk students – using existing resources already linked to schools, and the metric of chronic absenteeism to drive school and life success," says the fact sheet. The effort, which is a partnership between the U.S. Department of Education and Johns Hopkins University, will be expanded to full scale within the next three to five years and will aim to reach over one million students.
The Ad Council campaign will target parents, especially those of students in kindergarten through eighth grades, to raise awareness about the issues of chronic absenteeism, including "how chronic absenteeism affects children in the short-and long-term, and share tips and resources for parents to help address chronic absenteeism."
The Associated Press includes that according to the administration, chronic absenteeism is defined as missing about 18 days of school in a year, or at least 10 percent. In the article, Robert Balfanz, of Johns Hopkins University's Everyone Graduates Center, notes the importance of this early-intervention style approach, saying: "By the time you get to high school and you've missed a month of school, you're on the track to dropping out."
After the California Department of Education recently announced that it will begin collecting chronic absenteeism data for the first time, a requirement under the Every Student Succeeds Act (ESSA), there's a push to have this data included in the state's accountability system, reports EdSource. The state board will discuss the components of the new accountability system in a meeting in early March, since states have some flexibility to determine the multiple measures that make up the system. To learn more about this process, visit all4ed.org/ESSA and check out the fact sheet on accountability in ESSA.
The EdSource article explains that previously the state board did not show much enthusiasm for chronic absenteeism rates as a performance indicator, since the state was not collecting this data and instead would have had to use the "average daily attendance," a less precise indicator of attendance that can "create the impression that absences are evenly distributed." Now that the state will collect this data, advocates are calling it a "game changer" and expressing the importance of this new information. Read more in the EdSource piece: http://edsource.org/2016/will-california-use-chronic-absenteeism-as-a-new-federal-metric-of-school-success/94999.
Categories:
Uncategorized