Daily Dish: Connections Between School Climate, Teachers, and Student Achievement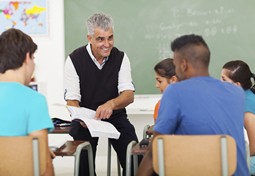 In New York, a new study shows that improvements in school climate can be linked to the equivalent of over a month of extra math instruction and reduction in teacher turnover by 25 percent in some cases, reports Chalkbeat New York. The new study "could help shift the debate about what factors are most important in boosting student achievement," the article says. According to the report, individual teacher effectiveness is a key element to improving school climate, however other factors, including disciplinary code, could thwart teachers' efforts.
As Chalkbeat points out, the results of the report seem fairly self-evident, "After all, why wouldn't a better learning environment boost student achievement and make teachers more likely to stay in their jobs?" But the study, conducted by NYU's Research Alliance for New York City Schools, is valuable as it examines these effects of school climate and the impact on achievement over time, comparing school climate measures with student test scores and data on teacher retention. "Each measure, the report found, is independently linked to decreases in teacher turnover. And gains on two of those measures, high academic expectations and school safety, were directly connected to better scores on state math exams."
Check it out: Examining School Climate, Teacher Turnover, and Student Achievement in NYC.
The Alliance produced a series of reports on how equitable and effective school discipline policies, equitable access to rigorous and engaging course work, and access to effective teaching work together to create a positive school climate. Within the series of Climate Change reports, one report focused specifically on this topic of how to support great teaching, exploring opportunities for improvements in federal, state-, and local-level policy. The report also zeroes in on equity, noting that although schools are implementing higher academic standards that require engaging and effective teaching, many low-income students and students of color do not have access to great teaching that supports a positive school environment.
View the full series of reports to learn more about the contributing factors to positive school climate.