Daily Dish: Computer Science and Digital Learning in High Schools

December 04, 2015 02:22 pm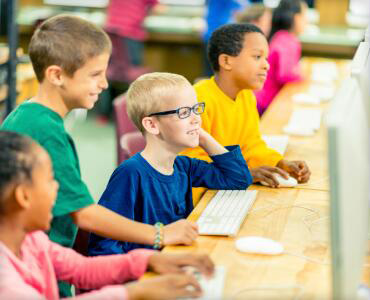 There's a rising interest across the country to teach computer science in schools, the Associated Press reports. More and more schools are offering computer science courses to students in all grade levels to ensure children become digitally literate and open doors to STEM careers. According to the U.S. Bureau of Labor Statistics, 4.6 million of 9.2 million science, technology, engineering and math jobs will be in computing by 2020. Hadi Partovi, founder and CEO of Code.org, tells the Associated Press that "In the 21st century, computer science is just as foundational as biology, chemistry."
"Supporters say it's not just about learning how to code, but learning how computers work," the article notes. "They say computer science teaches kids to think logically, be creative and exposes them early to the technology that will drive their future."
In an opinion piece on edSurge, Sheena Vaidyanathan, a computer science teacher in California, refutes the popular assumption that computer science is just coding. Computer science goes beyond just coding, Vaidyanathan writes, it is about solving problems using computers. Coding on the other hand, is about implementing the solutions that solve these problems.
"Let us give our students the right amount of computer science context to help them solve problems and design solutions and then if they are interested build them in code," she writes, "Teach kids to code so they express their creativity, but also throw in just enough computer systems, algorithms and more to empower them in their coding projects."
San Francisco Chronicle reporter Joe Garofoli explores whether or not schools should count coding as math. In a move to help California high schools increase their computer science offerings, Garofoli reports, Lt. Gov. Gavin Newsom asked the University of California Academic Senate to consider high school computer science classes as math classes instead of electives, since high schools frequently tailor their curriculum to reflect what the university system requires. "Turning computer science into a core requirement could eventually pull more women and people of color into those classes at a younger age," Garofoli writes, "and help diversify the talent pool in an industry dominated by whites, Asians and men." Learn more about the support behind this move in the article, posted on eSchool News.
The Every Student Succeeds Act (ESSA), the replacement for No Child Left Behind (NCLB), which just passed in the House yesterday and will be voted on in the Senate next week, includes definitions for several education technology terms. edSurge breaks down some of the buzzwords that are highlighted in the bill, including blended learning, digital learning, and even technology. Within the bill, blended learning is identified as a practice that can "help students in dire straits," edSurge points out, and a provision is included that adds funding for state-mandated blended learning professional development.
An upcoming Alliance webinar on December 15 will explore the creation, implementation, and use of student tech teams. Featuring the success story of Burlington Public Schools in Massachusetts, the Google Hangout will touch on the benefits of these student teams in supporting large-scale technology initiatives, both from the student and teacher perspective. The webinar, Student Tech Teams: From Creation to Implementation, is a part of the Future Ready Schools Leadership Network. Registration is required, so sign up now!