Daily Dish: Children Head to the Labs to Learn about #STEM Careers (#WeekAtTheLabs)

February 29, 2016 04:11 pm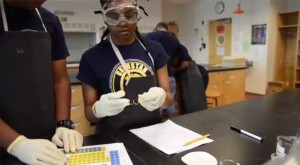 This week the White House launched "National Week at the Labs," where more than 50 National Labs in more than twenty states are opening their facilities to thousands of students from local neighborhoods to allow children to participate in hands-on activities and work directly with scientists and engineers to learn about STEM careers. The White House is also encouraging local communities to host their own Week at the Lab events at schools, libraries and organizations to support STEM learning. The initiative is in partnership with White House Council on Women and Girls (CWG) and the My Brother's Keeper (MBK) Task Force.
Students from Baltimore and the District of Columbia are kicking off the week at the White House Day at the Lab event. See some highlights of the day's activities from Twitter:
A young astronaut-in-training chats with @Astro_Cady about spaceflight. Nice flight jacket young man! #WeekAtTheLabs pic.twitter.com/Safgv7JNWT

— ISS National Lab (@ISS_CASIS) February 29, 2016
@Astro_Cady w/ @ISS_CASIS showing @NASA_SPHERES to students. #WeekAtTheLabs @WhiteHouse @ZeroRobotics pic.twitter.com/DyK2h0BFxc

— ILC (@mass_ILC) February 29, 2016
Tina Tchen speaking at our #WeekAtTheLabs event @WhiteHouse with MBK and CWG for boys and girls to learn about STEM! pic.twitter.com/AI1DQXHcum — Jordan Brooks (@JordanBrooks44) February 29, 2016
Lunch with STEM professionals at the White House. #MBKLABWEEK #WeekAtTheLabs pic.twitter.com/a0Oe1oL1Z2 — Mel Higgins (@hhchem10) February 29, 2016
The Associated Press notes that the week-long celebration is "part of Obama's effort to encourage young people, especially girls and minorities, to pursue careers in the fields of science, technology, engineering and math." In an interview with the Associated Press, Megan Smith, chief technology officer in the Office of Science and Technology Policy at the White House, said that there are around six hundred thousand unfilled technology jobs in the country, noting that these jobs pay significantly more than the average salary. "It's an exciting time to think about how we're pulling all the children of our country into technology and STEM and the jobs of the future," she said.
The White House also announced new My Brother's Keeper (MBK) STEM and entrepreneurship tracks, created by the MBK Task Force. The Task Force is dedicated to connecting underserved students to federal and non-government STEM learning opportunities and initiatives. This new work builds upon that of the White House Council on Women and Girls (CWG) as well, and focuses on several key areas including exposure, training and apprenticeship, job placement and entrepreneurship, and advancement. Learn more at: https://www.whitehouse.gov/blog/2016/02/27/engaging-americas-youth-stem-through-hands-experiences-labs-and-communities-across.
These efforts to drive underserved student groups into high-demand STEM fields are especially critical given a recent report by the Georgetown University Center on Education and the Workforce, which shows African American students are underrepresented in college majors associated with STEM careers. According to the report, African Americans account for only 3-6 percent of all degree holders in engineering fields, which are among the top ten highest earning majors. In addition, African American students are concentrated in majors with the lowest income potential. Learn more about the report: https://all4ed.org/articles/college-majors-and-earnings-new-report-finds-african-americans-underrepresented-in-high-earning-college-majors/.