Daily Dish: Changing Education to Better Serve Students of Color

February 05, 2016 04:40 pm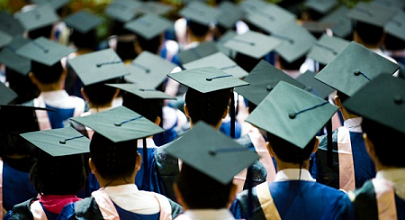 Today's Dish explores innovative approaches to help transform the education experience to better serve students of color and students from low-income families.

The Atlantic tells the story of Long Beach California's public schools, where college and career are a primary focus starting as early as fourth grade. In the district, where 68 percent of students qualify for free or reduced-price lunch, children attend college tours while in elementary school to help show them that a college degree is within their reach, even though many students may be the first in their family to attend college. The article notes that in the district, test scores, AP-class enrollment, high school graduation rates and college-attendance rates are all up, even though the demographics of the city remain "challenging," the article notes, with 68 percent of Long Beach students qualified for free or reduced-price lunch—a percentage that has barely changed since the state began tracking it. State lawmakers recently proposed a legislative package, called the California College Promise, that would incorporate several practices used by Long Beach into state policy. Read the full piece for more: The Long Beach Miracle.
A course offered in Oakland Unified School District on the African American male image is part of a larger effort to eradicate racial inequality, underachievement, and lack of opportunity for African American male students, the New York Times reports. The class, titled Mastering Our Cultural Identity: African American Male Image, is part of the daily curriculum at twenty different schools, and is available to students in third to twelfth grades. The class is part of a program run out of the Office of African American Male Achievement, and is taught only by African American male instructors, who are able to lend their perspective and experience to the class. The article includes several stories of students who have experienced and been changed by the course. Check it out: http://www.nytimes.com/2016/02/07/education/edlife/in-oakland-building-boys-into-men.html?partner=rss&emc=rss&_r=0.
These efforts to change the narrative for students of color and underserved students are critical, especially given recent findings by the U.N.'s Working Group of Experts on People of African Descent, which showed issues within the U.S. public education system for African American students. The Huffington Post details some of the results, including that "African Americans tend to have lower levels of income, education and food security than other Americans." The group reported on problems in education that disproportionately affect African American students, such as school disciplinary actions, including suspensions, expulsions, and arrests, which lead to the school-to-prison pipeline, school closures in predominantly African American neighborhoods, and high levels of school segregation. A full report is expected to be released in September.
Additionally, the Alliance for Excellent Education has found that increasing the graduation rate for African American students to 90 percent would yield substantial economic benefits for the nation, including an increase of $2.5 billion annually in gross domestic product (GDP) and 14,350 new jobs, among other benefits. Learn more at http://impact.all4ed.org/#national/increased-investment/african-american.