Daily Dish: California Test Scores Reveal Widening Achievement Gap & How Ethnic Diversity Can Help Close It

September 14, 2015 05:34 pm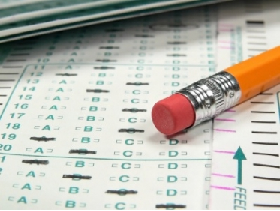 The release of Common Core test scores last week for California public schools sparked a conversation about the widening achievement gap between African American and Latino students and their white and Asian peers. Part of the dialogue included utilizing the ethnic diversity of the student population to combat this divide.
According to the Los Angeles Times piece, Achievement gaps widen for California's black and Latino students, the new state testing provides a more accurate gauge of academic skills, showing the extent of the disparity between the performance of students in these various ethnic subgroups. In English language arts 72 percent of Asian students and 61 percent of white students met the state standard, compared to only 28 percent of African American students and only 32 percent of Latino students. There were similar gaps in math, with 69 percent of Asian students achieving the state math targets, compared to 49 percent of white students, 21 percent of Latino students and 16 percent of African American students.
How is ethnic diversity being used in an attempt to close the gap?
A Southern California Public Radio (89.3 KPCC) story, Common Core test scores show achievement gap, even in high-performing schools, references the Summer Algebra Institute in Los Angeles, which is one of 18 math academies statewide funded by the California State University. The program partners with African American churches and taps church leaders' connections in the community to identify students.
Institute teacher Tammara Lewis tells KPCC that she reviews basic concepts, including fractions, algebraic expressions, and even Egyptian numerals, with the students during the summer course to build pre-algebra skills.
"That reference to a country in north Africa is important," the article notes. "It's part of the program's effort to connect these students to their culture. Teachers tell the students that without their ancestors, there would be no math as we know it."
Similarly, the article notes that some researchers recommend that school administrators view the language skills and culture of Latino students, many of whom are categorized as English language learners, as an asset to their learning experience. Marcelo Suarez-Orozco, the dean of UCLA's Graduate School of Education, discusses how knowledge of the culture and communities of the students helps to connect with them.
"'You need to know your communities, you need to know your families, you need to know what their ambitions are, what their expectations are, what their skills are. If you start with that point of departure, you will succeed in connecting with a greater number of Latino-origin children,' Suarez-Orozco said."
An Alliance study of Seattle Public Schools (SPS) corroborates this logic, showing how high-quality curriculum and innovative school designs that support the use of students' home languages, in addition to English, produce better outcomes for English language learners.
"At Seattle Public Schools, students' languages and diverse backgrounds are seen as assets, not liabilities," said Bob Wise, president of the Alliance for Excellent Education and former governor of West Virginia upon release of the report. "Students develop an understanding of their own race and identity as well as the culture and identity of others, leading them to become lifelong learners. In this way, all students, including English language learners, receive a high-quality education that prepares them for a technologically advanced, global economy."
The report includes a set of policy recommendations to aid school districts to incorporate this model. Check out the full report and learn more about the success of SPS at https://all4ed.org/wp-content/uploads/2013/10/LinguisticDiversity.pdf.
Categories:
Uncategorized