Daily Dish: Arkansas Makes Correct Call on Definitions for College and Career Readiness

October 15, 2015 05:10 pm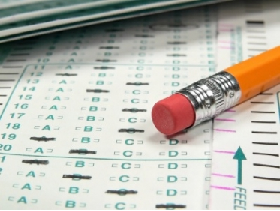 Earlier this week, it seemed as though Arkansas was following in Ohio's footsteps and determining its own standard for proficiency on the Partnership for Assessment of Readiness for College and Careers (PARCC) exam. On Monday, the Arkansas education department said that they would consider students scoring at a Level 3 or higher on the PARCC test to be on-track for college and career readiness. This is a lower standard than the one set by the PARCC consortium, which considered students scoring at Levels 4 and 5 as on track for higher education and the workforce, as is noted in Education Week. But the state chief Johnny Key announced that this was a mistake and reversed back to the PARCC descriptions. Ed Week quotes Key as saying:
"Our description of Level 3 and above as reflecting students being 'on track for college and career readiness' was in error," Key said in his statement. "We should have then, as we will from this point forward, used the actual descriptions from PARCC to accurately reflect the performance of students at Level 3 as approaching academic expectations for college and career readiness."
Last week, Ohio relabeled the performance measurements of PARCC so that students were considered "proficient" even though, according to PARCC, they had only "approached expectations." A previous Daily Dish discussed the issues with states determining their own definitions of "proficient" on reading and math tests aligned to the Common Core.  Such a move combats the purpose of the Common Core standards: to set high expectations for learning, so as to avoid each state setting low standards, making tests easier, or lowering passing scores and making students "proficient" even if they aren't college-ready.
When it comes to Common Core Standards in the classroom, states have been purchasing new materials and textbooks to better align curriculum to the new academic benchmarks. However, according to a U.S. News & World Report article, states have trouble choosing the materials that deliver "the most bang for the buck." The article cites a new study from the Center for American Progress about the relationship between the cost and quality of these materials. The study found that "higher-quality products tend to cost less…and in some cases the most expensive curriculum is among the least effective and the least expensive is among the most effective." Yet, due to a lack of research on curriculum effectiveness, states and local districts have difficulty making informed decisions about which instructional materials will benefit students the most.
Categories:
Uncategorized