Daily Dish: African American Leaders Inspire Students for College and Careers

October 06, 2015 05:34 pm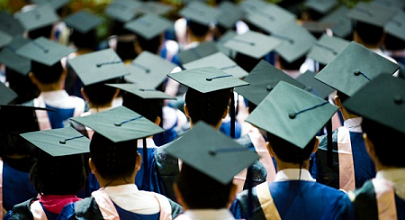 In an effort to inspire students and provide them with successful role models, hundreds of African American leaders in business, arts, education, and public life have visited public schools across America, according to an article by The Washington Post. This initiative is part of the HistoryMakers project, based out of Chicago, which has conducted oral-history interviews with these inspirational leaders and now sets up these school visits, The Post reports. In the article, HistoryMakers founder, Julieanna Richardson, describes her belief that personal stories have the ability to change a young person's perception of achievement. She is quoted saying: "I really grew up not knowing that black people had accomplished anything," Richardson said. "Everybody needs role models."
Education Secretary Arne Duncan, who announced his resignation just this past Friday, helped to launch one of these HistoryMakers visits in Chicago at Paul Robeson High School and attended the visit of Thomas Burrell, founder of the country's largest African American-owned marketing firm. Burrell also graduated from the school, which is largely attended by students from low-income families and many homeless students as well. In the article, he explained why it was so important for him to speak to the children, saying: "Those children are me. Those children are my children. I love them and I feel for them and some of them are doing quite well considering the circumstances that they're going through."
This concept of inspiring children by showing them what people like them can achieve was exemplified in another Washington Post article about a Philadelphia group who is trying to put more African American men into the classrooms. The group's mission is to become a hub for the recruitment and retention of African American educators, bringing them together and providing professional support. Sharif El-Mekki, a Philadelphia principal and leader of The Fellowship, says that African American children aren't seeing teachers that look like them, and aren't necessarily being told that they should consider a teaching career. "I don't think that seed is being planted," said El-Mekki. "We have to talk about it with black youth."
In one of the HistoryMaker visits, Joan Langdon, mathematics and computer science professor at Maryland's Bowie State University, explained to students that there is a connection between their willingness to work hard and their earning potential, The Post reports. She told the children that college is a starting point, and with a degree they can expect to support themselves. Langdon encouraged the students that wherever they started working, they could keep going, and work for promotions to increase their earnings.
Luckily for students, the numbers seem to reflect this ideology, especially when it comes to acquiring "good jobs." A recent report, Good Jobs Are Back: College Graduates Are First in Line, by Georgetown University Center on Education and the Workforce, says that since 2010, the economy has added 6.6 million new jobs and the majority—2.9 million—are "good jobs," which pay more than $53,000 per year, generally are full time, and most likely offer employment benefits. And 97 percent of these "good jobs" were secured by workers with at least a bachelor's degree.
Hopefully these efforts to inspire students by allowing them to see through the lens of others' success and realize their own potential by earning a degree and subsequently a "good job" will continue to multiply and reach larger numbers of students across the country.