Daily Dish: Acting Education Secretary John King Shares Background, Goals

January 14, 2016 12:08 pm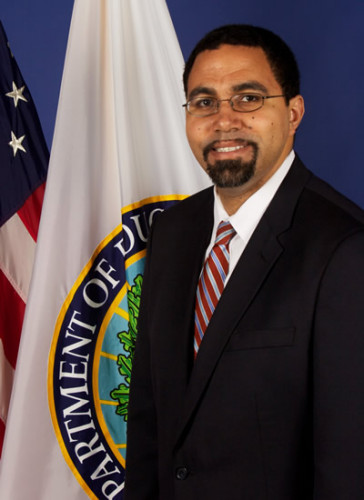 Acting Education Secretary John King discusses the needs for standards for college and career readiness, the education standing of the United States, and the necessity of discussing increasing graduation rates in an interview this week with CBS This Morning's Norah O'Donnell.
As King steps into his new role, he emphasizes the critical part education played in his life and how school and his "life-saving" teachers got him to where he is today, calling it "a testament to what's possible if students have the right opportunities." King brings O'Donnell to his old school, P.S. 276, and even into his classroom, as he shares his personal story of a childhood that was riddled with difficult obstacles, including losing his mother at age eight, and his father, to undiagnosed Alzheimer's, at age twelve.  This "made school even that much more important," said King, "because school was the place where I could get beyond that."
In the interview, King points to the nation's status among international competitors when it comes to college degrees, noting that the U.S. was once ranked first, and has since fallen to 13th. "King said it's hard to look at the fall in ranking and not see an education crisis," and yet he does mention that there are many signs of progress that must be continued.
"As the country goes through a presidential election, we've gotta ask every candidate… 'What are they going to do to raise graduation rates? What are they going to do to make sure more students graduate from college?'" King said.
Watch the full interview.
King participated in #BigBlockOfCheeseDay yesterday, an annual event following the President's State of the Union address where Cabinet officials, members of Congress, Senior White House officials, and other guests answer questions on social media. According to the White House, the event is "inspired by President Andrew Jackson's 1837 open house featuring a 1,400-pound block of cheese."
King answered several questions focused around education, on topics including the Every Student Succeeds Act (ESSA):
States must honor civil rights legacy of #ESEA first adopted in 1965. #ESSA can and must enhance equity. https://t.co/xN0yW6rxrl

— John King (@JohnKingatED) January 13, 2016
New #ESSA creates opportunities for states to focus on whole child: social studies, science, arts, social/emotional. https://t.co/wvdnQXGXp8

— John King (@JohnKingatED) January 13, 2016
As student, teacher & principal, I saw first hand how school can save lives: relationships/academics/joy in learning https://t.co/uhuFLXmIiM — John King (@JohnKingatED) January 13, 2016
What are some of King's goals for 2016? Check out his New Year's Resolutions: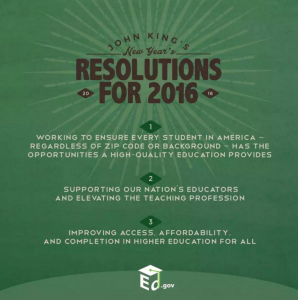 Categories:
Uncategorized