Core of the Matter: What Does "Equity and Excellence for All" Mean? (#CoreMatters)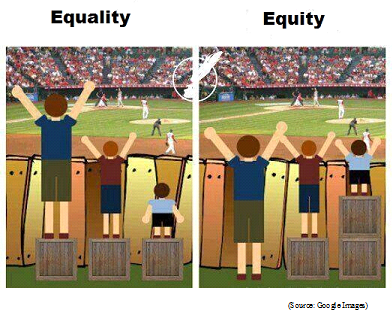 When I came across the above image on Twitter, it reminded me of a question I was constantly asked during my years as a high school social studies teacher and as an education advocate working with students, parents, and community organizers fighting for education and social justice on and off Capitol Hill: "What is equity in education and what does it look like?"
Often times, people confuse "equality" with "equity." I hear retorts such as, "Every child has an equal opportunity for a good education, if only they'll work hard." "If my kids can be successful, why can't those kids do it?"
Clearly, some people believe that there are students who are still not utilizing Horatio Alger's bootstraps to "pull themselves up." Perhaps the problem lies less in a child's ability to pull himself up and more in the lacking of the bootstraps with which to pull. That's the essence of the "equality" versus "equity" debate. We all know that every child is capable of learning, but does every child have what he or she needs to succeed?
While someone like Alger would claim that all that poor and struggling students need to succeed is "honesty, cheerful perseverance, and hard work," what students really need to be ready for college, career, and life are rigorous learning opportunities, effective educators, high quality instructional resources, real-time supports (academic and non-academic) that address students' needs both inside and outside of school, and the systemic structures focused on moving our students from high school into college, career, and citizenship.
Rigorous learning opportunities are those that result in deeper learning outcomes. Students master core academic content, learn to think critically and solve complex problems, work well in collaborative environments, communicate effectively both in speaking and in writing, own and direct their learning, and possess a strong academic mindset and strong belief in themselves and their abilities.

New Tech West High School

, part of the Cleveland Metropolitan School District, has made deeper learning a critical component of its instructional practice. All students experience project-based learning opportunities and classrooms where teachers are facilitators and not "sages on stages." While the school is still relatively new, it already is seeing tremendous results with a student population that is largely economically disadvantaged and that, historically, has struggled academically.
Effective educators are those who have the extensive training and content knowledge necessary to guide their students in a deeper exploration of their subject matter and the ways in which it intersects with other aspects of their learning. Effective educators also receive support from their building leaders and colleagues and continuous professional development to remain current on the pedagogical best practices necessary to guide their scholars' learning and provide personalized learning opportunities for all of their students. Educators from across the country discussed the supports they receive through

professional learning communities

 and

professional development

opportunities as part of the Alliance's

Common Core and Equity video series

, which highlights how five states—California, Colorado, Kentucky, Maryland, and Ohio—are implementing the Common Core State Standards and serving significant percentages of low income students or students of color.
High quality instructional resources are the tools and experiences our students need to develop their content knowledge and skills fully. These resources include educator-created learning materials and curriculum aligned with the Common Core found in states such as

Maryland

,

Colorado

, and

Kentucky

, as well as extended learning opportunities inside and outside of school that help students contextually connect their classroom learning to their real lives, as seen in

Linked Learning

programs and

Xavier University of Louisiana's Summer Bridge Program

.
Real-time supports (academic and non-academic) that address students' needs inside and outside of school are those that care for the whole child. Our best educators and learning environments are no match for any physical, emotional, psychological, familial, or academic struggles our students experience. That's why educators like those at

Benjamin Franklin High School

(BFHS) in Baltimore City work on winning both the hearts and minds of their students. In his Common Core and Equity

interview

, principal Christopher Bataglia said, "Some schools refer to services as wraparound services and I don't like to refer to them as wraparound services 'cause they're absolutely crucial. They're the heart and soul of what we do. So when you have so many different issues going on you can't expect a student to come in totally focused on U.S. history or whatever it might be when all these other things are going on, but the teacher is not equipped to handle all that." BFHS's Family Stability Project provides myriad supports to students and their families so that students focus on their education and not on the challenging problems they face outside of school. The school also provides mental health services and supports through a partnership with the

University of Maryland, Baltimore School of Social Work

.
Systemic structures focused on moving students from high school into college, career, and citizenship are critical if we are truly to provide equity for every student. Many schools and districts nationwide use

data dashboards

to assess their overall performance. These dashboards look at multiple indicators, not just student test scores, to determine how schools and districts are performing and identify areas for improvement. We also need to ensure that

school climates

make educators feel well-prepared, supported, and culturally competent and support an overall goal of keeping students inside the classroom learning instead of outside of the school building because of suspensions and expulsions.
We have a moral imperative to get this question of equity right. Our students, and our nation, are depending on it and we must not fail.
Tina Dove, M.Ed., is the Alliance's senior policy associate. She taught twelfth, tenth, and ninth grade social studies in the District of Columbia Public Schools, Fairfax County Public Schools (VA), and the Redlands Unified School District (CA).