Common Core and Curriculum Controversies

October 24, 2013 12:14 pm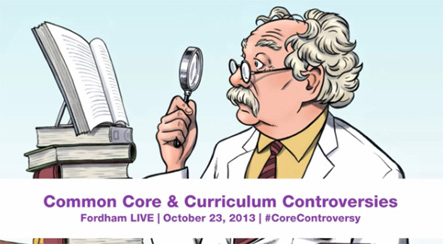 On October 23, the Thomas B. Fordham Institute held an event on "Common Core & Curriculum Controversies." The first two sections focused on math and English language arts issues and featured Jason Zimba, co-founder of Student Achievement Partners, and Tim Shanahan, Professor Emeritus at University of Illinois at Chicago, respectively. But the show-stealer of the event was the excellent panel of five teachers. I left more excited than I've been yet about the promise of common core to improve teaching and learning in this country for all kids, especially those who have historically been underserved.
One of the things the event re-focused me on is the promise that with this narrower, more focused core, remediation, particularly in math, should be a more straightforward matter.  Two of the teachers talked about the double blocks they offered so that students could take the higher level class at full strength and have time to get additional instruction around knowledge and skills that had not been previously gained.
Lane Walker from Francis Howell High School in St. Charles, Missouri, reported that she was using the lower level standards to build logic-based understanding of topics like fractions during this remedial time and that as a result, she was able to give her remediation students harder problems related to fractions than students taking only the higher level class.  She called the remediation class a "success class." Cicely Woodard, who teaches at Rose Park Math and Science Middle School in Nashville, said that she absolutely believes and is seeing secondary students who have been way behind academically succeed under common core with this extra support.
There was also some discussion about preservice training. The teachers on the panel noted that some veteran teachers are having a harder time shifting while some student teachers have been well prepared in their programs for these shifts. Given the fact that so many novice teachers are placed in classrooms with historically underserved students, this could be a real opportunity in some respects if changes can be made in preservice preparation.
Video from the event is embedded below. I highly encourage people to watch the full event, and especially the teacher panel, which begins two hours into the event and runs about an hour.
Categories:
Uncategorized