College Attainment Rates Lag for African Americans, Latinos, and Low-Income Students

December 16, 2016 02:57 pm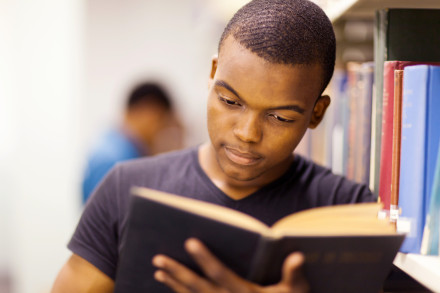 Today's young adults have the highest rate of postsecondary education attainment in U.S. history. That academic success has not reached all groups equally, though, and significant education attainment gaps persist along gender, race, and income lines. But future cohorts of students—namely those currently in high school and college—are poised to close those gaps, according to a new report.
Currently, nearly half of all 25- to 34-year-olds hold an associate's degree or higher and two-thirds have at least some college, representing dramatic growth in postsecondary attainment during the last fifty years, according to Closing the College Gap: A Roadmap to Postsecondary Readiness and Attainment. Civic Enterprises and the Everyone Graduates Center at the School of Education at Johns Hopkins University released the report in partnership with America's Promise Alliance and the Alliance for Excellent Education as part of the GradNation campaign.
Despite Progress, College Attainment Gaps Persist
"This is a critical milestone in that the nation has for the first time reached the threshold of postsecondary attainment becoming the normative experience," the report says. "Yet it also means that there are still just about as many young people not attaining a postsecondary credential as those who are."
Most of those young people not attaining a college degree are male, African American, Latino, and from low-income families, the report explains. Although men once outpaced women in higher education, women now earn college degrees at a higher rate—50 percent of women ages 25 to 34 years hold an associate's degree or higher compared to 42 percent of men in the same age group. Educational attainment among African Americans and Latinos also lags behind that of their white peers. While the percentage of young adults of color earning at least an associate's degree has increased during the past twenty years, the attainment gap between whites and African Americans still is 15 percentage points, while the gap between whites and Latinos is 30 percentage points, the report says. Similarly, among 25- to 34-year-olds, 72 percent of those from affluent backgrounds have earned a postsecondary degree or certificate, while just 35 percent of those from low-income families have done so.
Future Cohorts May Close the College Gap
But prospects are much brighter for those students currently completing high school and college—students who will be 25 to 34 years old in 2025. This next cohort has experienced substantial gains in high school graduation rates and college enrollment rates over previous cohorts, fueled primarily by gains among African American and Latino students and those from low-income families. Compared to the current group of 25- to 34-year-olds, this group of up-and-coming young adults (those who will be 25 to 34 years old in 2025) experienced a 10-percentage-point gain in the percent of students who graduated from high school on time and enrolled immediately in college. As the graphs from the report show below, Latino student enrollment in postsecondary education more than doubled between 2000 and 2014, while enrollments for African American and Asian/Pacific Islander students increased as well. The percentage of students from low-income families enrolling in either a two- or four-year college directly after high school also increased from 50 percent in 2000 to 58 percent in 2014, the report says.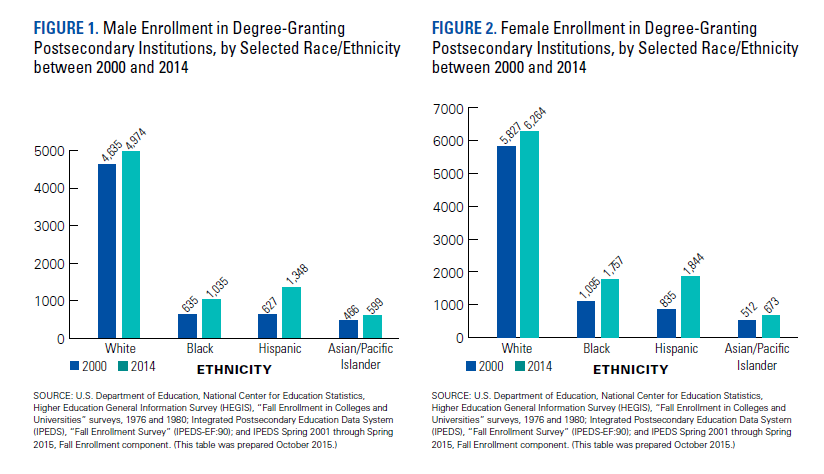 Expanding Postsecondary Education Options
"We're seeing improvements in high school graduation rates translating into significant gains in postsecondary education, leading to the first cohort of young adults in the past 50 years that will experience both rising educational attainments for all students and the closing of opportunity gaps for students of color and low-income students," said John Bridgeland, cofounder and co-CEO of Civic Enterprises. "However, too many students still face serious obstacles that threaten equal access to a quality education and preparation for the demands of the modern workforce."
For instance, Latino students and those who live in areas with lower levels of educational attainment typically have fewer postsecondary education options—particularly four-year degree granting institutions—in or near their communities, the report notes. Meanwhile, 22 percent of high school graduates enroll in postsecondary education with "warning signs" that they may not be fully prepared for college success, such as low high school grade point averages or failure to complete a college-ready course of study in high school, the report adds. Closing the college gap will require efforts that expand access to postsecondary options for traditionally underserved students and communities as well as initiatives that improve postsecondary education persistence rates among diverse student populations and efforts that ensure students graduate from high school prepared for postsecondary success, the report adds.
Kristen Loschert is editorial director at the Alliance for Excellent Education.
Categories:
Uncategorized