College- and Career-Readiness Assessments: Results Are (Coming) In

September 11, 2015 12:21 pm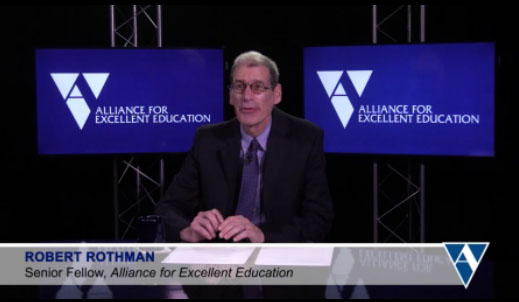 As states begin to release results from new assessments that measure college and career readiness, what do the results mean? On September 9, 2015, three educators offered their views. Lorretta Holloway, the interim vice president for enrollment at Framingham State University in Massachusetts; Anitra Pinchback-Jones, the principal of Rainier View Elementary School in Seattle; and Marti Shirley, a mathematics teacher at Mattoon High School in Mattoon, Illinois, spoke on an Alliance for Excellent Education webinar.
The educators discussed their experiences with the Partnership for Assessment of Readiness for College and Careers (PARCC) and the Smarter Balanced Assessment Consortium (SBAC) assessment, which were administered for the first time in 2014-15 in 29 states (Washington State administered SBAC; Massachusetts and Illinois administered PARCC).
Here are some of the key points from the webinar:
Expectations about the results—Scores are not expected to be high overall, but we should see success on items measuring basic skills. Students are expected to struggle on written response items requiring justification as teachers are still grappling with how to effectively teach this in the classroom. The largest challenge is shifting classroom practices to match the rigor of the newer assessments.
District Support—There has been statewide communication. There is also a repository of lesson planning tools, sample assessment items, and question-writing techniques for teachers to use throughout the year.
Parent Response—Parents have been positive as districts have provided them with ample information about the assessments and what they mean for instructional changes. Most of this information is filtered through schools. Student results are also shared on a continuum so that parents understand where their child is performing and how they should be performing in 11th grade English Language Arts, for example.
Student experience—In some cases, students seemed comfortable with the testing format and generally positive. In other, students expressed anxiety with the new test structure. They were not accustomed to the level of inquiry which is an indicator for teachers on how much further we have to go.
Subgroup Performance—Though historically underserved students are performing better than before, the performance of students with disabilities is not expected to improve. There is room to improve the accessibility of these new assessments.
Marti Shirley summed up the panelists' perspectives on the new assessments in her closing comments:
I wasn't the biggest fan of this change in testing. But I would say that, now, I am probably the biggest proponent of it I know. …. The shift in questioning is pushing our students to a new level, which is just exciting. It's the best thing that could happen to them, because it's taking them out of their comfort zone. In real life, they're not going to have to know just routine skills. They're going to have to know the applications. And PARCC is really forcing teachers to be able to prepare them to reason, to model. Math is such a great tool to teach students these skills that they're going to need for career, for college, for everything. I am so ready to see what the results are to keep moving forward with this.
If you missed the webinar, archived video from it is now available "on demand" at https://all4ed.org/webinar-event/sep-9-2015/.