College and Career Pathway Success Stories Shine on the Hill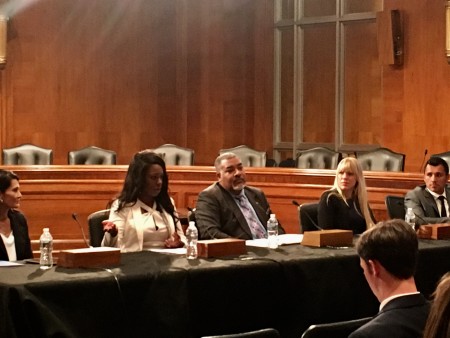 First-generation college students Seraiya Wright and Jose Bojorquez helped bring federal policy to life during a Senate briefing on career and technical education (CTE) last week. Seraiya and Jose shared their stories of how college and career pathways can successfully bridge the gap between high school, post-secondary education, and the workforce.
As a Linked Learning student in Sacramento, Seraiya, now a community health education major at Howard University, shadowed health professionals, including nurses in the emergency room, participated in classes hosted by medical students on college campuses, engaged with future employers and was exposed to workforce experiences all while in high school.
"Many of my high school experiences have provided me with opportunities that some students don't experience until their early med school years," Seraiya explained. "Now, I'm actually a change agent. I can give back to my community. And it all started in high school."
Jose participated in a strong mentorship program that prepared and enabled him to achieve scholarships for his postsecondary education. Taking his education beyond academics, the mentorship program taught Jose critical professional skills, including how to present yourself in front of employers, build a resume, and proper workplace etiquette. Jose is now a senior project engineer at McCarthy Holdings.
Watch these students tell their stories and hear more about the transformative power of high-quality CTE pathways in the briefing video below.
The experiences of these students can be amplified by strong policy supporting more high-quality pathways that better integrate partnerships between high schools, industry, and higher education. One such piece of legislation was introduced last week with bipartisan support by Senators Tim Kaine (D-VA), Rob Portman (R-OH), Tammy Baldwin (D-WI), Todd Young (R-IN), Maggie Hassan (D-NH), Shelly Moore Capito (R-WV), and Al Franken (D-MN).
The CTE Excellence and Equity Act supports funding for innovation in CTE and redesigns the high school experience for historically underserved students. The legislation authorizes federal grants to partnerships among school districts, employers, and institutions of higher education  that help students earn industry-recognized credentials or credit toward a postsecondary degree or certificate and an understanding of the relevance of that course work in the context of a future career.
"This bipartisan legislation works to address the growing gap between the traditional high school experience and the expectations of higher education and employers by connecting business, school districts, colleges, and others with a stake in the quality of the nation's high school graduates," said Bob Wise, president of the Alliance, in a press release about the new bill. "It also provides students with an opportunity to learn by doing, making the high school experience more engaging and more relevant to today's job market while setting students up for individual success—a key component to the nation's economic growth."
The Senators are working to incorporate the bill into the rewrite of the Carl D. Perkins Career and Technical Educational Improvement Act (Perkins). Perkins, which has not been updated in over ten years, is back on center stage in Congress, with the House introducing a reauthorization bill just last week.
Stay tuned for updates, and in the meantime learn more about the key parts of CTE Excellence and Equity Act https://all4ed.org/reports-factsheets/cte-excellence-and-equity-act-s-1004/ .
Categories:
Uncategorized