Building a STEM Pathway: Xavier University of Louisiana's Summer Science Academy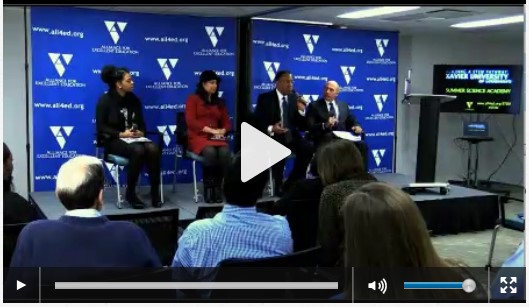 For the first time in history, minority students make up the majority of students in U.S. public schools, but continue to lag behind their white peers in the number of degrees earned in Science, Technology, Engineering, and Mathematics (STEM) fields. On February 19, the Alliance hosted an event in its new conference and advocacy center to discuss the Summer Science Academy at Xavier University of Louisiana, which continues to rank first nationally in the number of African American students who earn STEM degrees and first nationally in the number who go on to complete medical school.
Dr. Norman Francis, president of Xavier and Recipient of the 2006 Presidential Medal of Freedom, said during the webinar, "Our Summer Academy was born on the principle that everybody is special and can learn in a loving and caring environment where achievement really is virtue that needs nourished. Every child can learn if they are given the opportunity and have teachers who believe in them."   
Francis said that the program was designed to "bring students in, show them the rigors of learning and the rigors that were going to be required in the science fields, but also to show them what an excitement comes when one learns and gets the confidence of knowing that they can do what many people thought they couldn't do at all."
At least 70 percent of Xavier's 3,000 students are African American and 65 percent of those students major in science and mathematics.
Loren Blanchard, provost and senior vice president for academic affairs at Xavier, said the program wasn't "magical," but added that it "feels magical when you're there, especially during the summer" when 300-400 students are engaging in traditional and non-traditional scientific methods.
Blanchard also pointed out that improving the effectiveness of secondary math and science teachers not only affords students the opportunity to grasp more challenging curriculum and areas of study, but also provides those students with the confidence of knowing they can do what many people might not think they are capable of doing. He added, "Programming that shows students the rigors of learning in the math and sciences fields can adequately prepare them to enter those fields by bridging the gaps that continue to exist between secondary and post-secondary education."
The event also featured two former students who participated in the summer academy, Tasha Inniss, Program Director for the Division of Human Resource Development at the National Science Foundation, and Brandi Temple, a biology and pre-med undergraduate at Xavier, made the following points:
The future of the country will depend in particular on those who can navigate the science fields and are able to do the research and service those fields require.
It is important to make sure those students who come from a disadvantaged background live up to their potentials and are given the opportunities to reach those potentials
A final speaker was Michael Smith, special assistant to the President and senior director of Cabinet Affairs for My Brother's Keeper at the White House, who stated "We can no longer afford to have so many young people sitting on the sidelines It is not only a moral imperative to increase the number of students of color who engage in STEM fields, but also a vital economic imperative that they do well in those fields."
In conjunction with the event, the Alliance released a new report, Building a STEM Pathway: Xavier University of Louisiana's Summer Science Academy, which includes a series of short videos with the academy's teachers and students in action. The report is available at https://all4ed.org/reports-factsheets/xavierstem/.
Archived video from the event, as well as a complete transcript, are available at https://all4ed.org/webinar-event/feb-19-2015/.