Birth-through-Grade-Twelve Comprehensive Literacy Program (#ageofliteracy)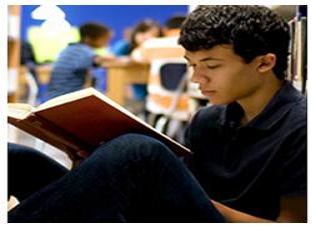 In this era of rapid global change, poor literacy skills seriously constrain an individual's likelihood of attaining a sustainable future. Over the past four decades, the share of jobs requiring some form of postsecondary education continues to rise, while the literacy performance of American thirteen- and seventeen-year-olds remains flat according to the National Assessment of Educational Progress (NAEP).  More than 60 percent of twelfth-grade students scored below the proficient level in reading achievement, and 27 percent scored below the basic level in reading. This means these lowest-performing high school seniors do not even have partial mastery of the appropriate grade-level knowledge and skills.
Low reading achievement does not equally affect all students. More than a third of Hispanic and African American twelfth graders read below basic level. Many students who struggle to read and write well make up a substantial portion of the 1.2 million students who leave high school each year without a diploma. The consequences for the individual and the costs to the nation are staggering in terms of lost wages and earnings over a lifetime. Estimates for dropouts, who typically have low literacy skills, are on the order of about $335 billion per year. For those who gain entry into the workplace, private industry spends an estimated $3.1 billion annually to bolster the literacy skills of entry-level workers. Increasing numbers of students must take remedial coursework upon entering college. The results are not promising—students who take one or more remedial development courses of any kind are less likely to eventually earn a degree or certificate.
In addition, today's schools are increasingly diverse, serving more students of color, students with disabilities, and English-language learners. If we do not rise to meet this challenge, we risk having increased numbers of struggling readers and writers facing a future of severely diminished opportunities.
What have we learned about advancing literacy rates around the world?
Long-standing shortcomings in educational systems and practices in the United States contribute to the persistent gaps in literacy achievement. Reading-proficiency gaps between black, Hispanic, and white eighth-graders fluctuate widely from state to state according to a recent report from the National Urban League. In contrast, other nations have made notable improvements in literacy achievement by focusing on their lowest-performing students.
The Organisation for Economic Co-operation and Development (OECD), which administers the Programme for International Student Assessment (PISA), provides a treasure trove of information to illuminate the policies and practices of high-performing nations. PISA, administered to fifteen-year-olds in the US and more than sixty-five nations worldwide every three years, focuses on reading to learn. It measures the individual's capacity to "understand, use, reflect on and engage with written texts in order to achieve higher goals, to develop his/her knowledge and potential, and to participate in society." These kinds of reading skills predict economic and social well-being far more than the number of years spent in school or in post-formal education. Since 2009, the proportion of top performers in the United States declined dropping its ranking from 14th to 17th in reading. Moreover, in contrast to other developed nations, socioeconomic disadvantage has a particularly strong impact on student performance in the United States.
A number of countries from a variety of starting points and with different cultural contexts succeeded in substantially reducing the number of students scoring below the PISA baseline in reading proficiency. These top performers adopted comprehensive policies that set ambitious expectations for literacy achievement, aligned curricula and instructional systems, and focused on the acquisition of complex, higher-order thinking skills. They invested in developing educators and required schools to attend to evidence-based instruction and overcome entrenched biases against students belonging to ethnic minorities.
What will it take to advance literacy?
The good news is that sustained investments in improving literacy development and education across early childhood education, elementary schools, and middle and high schools are making a difference. In 2012, six states—Georgia, Louisiana, Montana, Nevada, Pennsylvania, and Texas—received a five-year federal grant award. The Striving Readers Comprehensive Literacy (SRCL) program funds local school districts through a competitive grant process, with priority going to those serving low-income, English learners, and students with disabilities.
The SRCL states recognized that dramatic improvements in literacy instruction and performance would be unlikely without the creation of a strong, visible, and common culture of literacy practice. "Despite what we know about the nature of the problems of struggling readers and the need to bring effective literacy strategies to life in content-area classrooms, what actually goes on in classrooms often remains removed from education administration and policy," said Pennsylvania state program director Cindy Rhoads.
Implementing literacy at the secondary level is particularly challenging, but increasingly essential, with new more rigorous standards that place literacy as a shared responsibility across all content areas. "Infusing reading, writing, speaking, and listening within subject areas is key, requiring changes in both teacher expectations and instructional practices schoolwide," said Dr. Mel Riddile, associate director for high school services at the National Association of Secondary School Principals. Riddile, who works closely with Montana on implementing SRCL at the secondary level, hosted a webinar last week to highlight lessons learned about improving literacy. He emphasized that literacy instruction is integral to high-quality classroom teaching and that improving the quality of instruction in every core class can reduce the need for intensive intervention. "Unfortunately, in most secondary schools, when no one is looking there is very little reading and almost no writing going on."
Debbie Hunsaker from the Montana Office of Public Instruction discussed the challenge of  implementing a schoolwide literacy initiative at the secondary level. "We have learned that we must develop a common language by adopting a schoolwide instructional framework for integrating literacy instruction within rigorous coursework," said Hunsaker. She emphasized the importance of developing consistent, shared routines to engage students in purposeful reading, writing, and discussion of course content and to check for their understanding and provide feedback.
Across the SRCL states, principals and teachers from districts and schools producing exceptional growth in students' literacy achievement report high degrees of collaboration among teachers and administrators. Improvements focused on changing the actual day-to-day work in classrooms, schools, and districts—moving to team-based decisions for using data and evidence-based literacy practices, aligning curriculum with English language arts and content standards, and using multi-tiered systems of instruction and support in response to students' literacy needs.
Now in the third year of implementation, SRCL grantees are reporting positive results. Nevada's Striving Readers program serves more than 67,000 students. The literacy proficiency rate for eligible tenth and eleventh grade students increased from 28 to 51 percent since 2012. In Montana, 63 percent of SRCL students are economically disadvantaged and 39 percent are American Indian. Across all SRCL schools, the percentage of students at the advanced level increased from 48 to 55 percent. Pennsylvania expanded access to technology boosting schools' capacity to differentiate instruction and to develop students' language and literacy skills in accord with their needs and interests. In Louisiana, state assessment results show gains for SRCL students. During SY 2012–13, for example, the proportion of eighth grade students reading on grade level increased from 58 percent to 79 percent.
These results underline that poor literacy skills are not an inevitable consequence of low income.
"It is only through such benchmarking that countries can understand relative strengths and weaknesses of their education system and identify best practices and ways forward," said Andreas Schleicher, director for Education and Skills at OECD. "The world is indifferent to tradition and past reputations, unforgiving of frailty and ignorant of custom or practice. Success will go to those individuals and countries which are swift to adapt, slow to complain, and open to change."