#EdTech Perspectives: Isn't every day Digital Learning Day?
Posted:
January 15, 2015 03:30 pm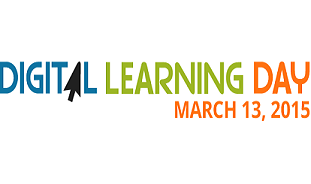 The Alliance for Excellent Education couldn't be more excited about the opportunity to showcase some of the most innovative educators, schools, and programs across the country during its fourth annual Digital Learning Day on March 13.
Often, people ask, "Wait, shouldn't every day be Digital Learning Day?!" While it is absolutely correct that high-quality digital learning opportunities should be available to all students every day, it's also true that technology integration into schools and programs must be an intentional and reflective process.
The Alliance is proud that Digital Learning Day has not only become a platform for encouraging education innovation, but also for allowing the education community to appropriately reflect on strategies, practices, and policy reforms that are helping more students graduate from high school prepared for college and a career. Since its inception in 2012, thousands of teachers and schools across the nation have held activities on Digital Learning Day. And each year, the Alliance organizes a National Town Hall that highlights examples of how great teaching, combined with effective technology, can positively impact America's schools.
Read Entire Post