Assessing Deeper Learning: The Ohio Performance Assessment Pilot Project

January 27, 2014 11:17 am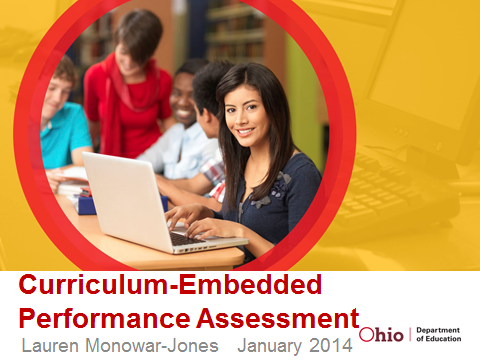 On January 16, the Alliance conducted a webinar on using curriculum-embedded performance measures to help students learn and demonstrate deeper learning competencies essential for college and a career. These competencies include the ability to use content knowledge to think critically and solve problems, communicate effectively using a variety of media, the ability to collaborate with peers, and the capacity to direct one's own learning.
The webinar focused on the Ohio Performance Assessment Pilot Project (OPAPP), which includes a system of learning and assessment tasks aligned with the Common Core State Standards and Next Generation Science Standards. Ohio has taken a unique approach to the pilot. It includes sustained, collaborative professional learning throughout all components of the program, including writing and scoring of assessment tasks and formative assessment to support student learning. Panelists included Lauren Monowar-Jones, PhD, Program Coordinator of Performance Assessment for the Office of Curriculum and Assessment at the Ohio Department of Education and Stuart Kahl, PhD, Founding Principal of Measured Progress. If you missed the webinar, you can watch the archived video.
The urgent need to change classroom teaching and learning was underscored by the December release of the Programme for International Student Assessment known as PISA. PISA is a test of reading, mathematics, and science given every three years to fifteen-year-olds in the United States and more than sixty-five countries worldwide. Since 2009, the proportion of top performers in the United States has declined in reading and math; US rankings fell from 25th to 26th in math and from 14th to 17th in reading.
According to the 2013 Organisation for Economic Co-operation and Development (OECD) report, Lessons from PISA 2012 for the United States: Strong Performers and Successful Reformers in Education, the trend among OECD countries is toward multi-layered, coherent assessment systems that are increasingly performance-based and designed to improve learning at all levels of the system. "Top performing systems use assessment that includes progressive learning targets that explicitly describe the steps that learners follow as they become more proficient, and define what a student should know and be able to do at each level of advancement."
In a similar vein, the OPAPP is designed to contribute to a multiple-measures assessment system and support improvements in instructional practice. Ohio teachers use a set of curriculum-embedded one- to four-week long formative learning tasks and shorter one- to three-day assessment tasks using a technology platform. To date, Ohio has piloted 140 learning tasks and 148 assessment tasks in mathematics, English language arts, science, social studies, and career tech pathways. It trained 686 teachers to provide instruction using the OPAPP model and trained as many teachers to score these tasks. The key is using the learning tasks for formative purposes—making learning targets explicit and providing detailed feedback to students without grading their performance. The intent is to ensure that all students have had the opportunity to learn that which will be assessed.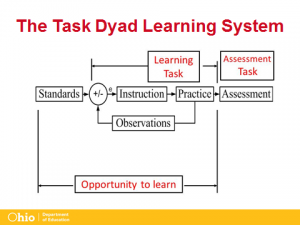 Formative assessment can have a powerful impact on student learning. Paul Black and Dylan Wiliam analyzed more than 250 studies on the effects of classroom assessment, concluding that formative assessment can produce significant and substantial learning gains across grades and subject areas. Its effect has proven to be among the largest found for any educational intervention. They found even greater achievement gains of one-half to two standard deviations on high-stakes tests following regular formative assessment practices that provided students with the opportunity to take control of their own learning. The lowest achievers made the greatest gains. Analysts calculate that if such gains were applied to how well students perform on international assessments, the United States' rank would improve from the mid-range of the nations tested to the top five.
Participating OPAPP teachers receive extensive training in integrating formative assessment strategies as part of project-based, inquiry learning. These include:
teachers ensuring students understand the learning targets and the criteria for success;
teachers gathering rich evidence of student learning by a variety of means;
teachers providing descriptive feedback on gaps in student learning;
teachers and students using the feedback to adjust instruction and learning activities;
students engaging in self-assessment and meta-cognitive reflection; and
teachers activating other students as resources.
The use of formative assessment heightens the role of the learner in using assessment information to make progress toward learning goals. It provides results unique to individual students, empowering them to monitor and improve their own learning.
"We are moving to performance assessment to increase students' engagement and motivation as well. First, the design of learning tasks challenges students to apply what they know in real world problems. Second, there is no question that students are motivated to engage in these activities when asked to do so for formative purposes—to learn rather than focusing on the grade or on being satisfied with 80 percent correct," said Kahl.
OPAPP teachers alter their pedagogical methods in ways that actively engage students in inquiry and project-based learning. They alter the wait time in eliciting responses from students, engage students using work with peers in pairs or groups to solicit discussion, ask students to explain their reasoning in order to understand possible misconceptions, frame high-quality questions to evoke important aspects of students' thinking and learning, and provide specific feedback to individual students.
Professional learning is integral to all aspects of OPAPP. Many teachers have been involved in developing and refining the tasks and rubrics, analyzing student-work, learning to score using a common set of evaluation criteria with their colleagues, and analyzing performance across students.  Monowar-Jones states, "A third lesson learned is the light bulb moment—that is teachers involved in the project really understand it only after they have scored their student responses to the assessment task. When teachers score student work, teaching improves quickly. The next time they do a learning task, students do significantly better because the teachers know how to teach it."
OPAPP provides a powerful model for how curriculum-embedded performance assessment engages teachers and students in cycles of teaching, learning, assessment, and feedback. These elements are essential to support ongoing processes that deepen students' conceptual development and ensure their steady progress toward attaining deeper learning competencies. As noted by Monowar-Jones, "Our model is unique. Teachers create the learning tasks; vendors create associated assessment tasks. There are important benefits of having teachers involved at this level. Not many states are offering formative assessment tools to their teachers that can be used in the classroom that will mimic what the summative assessments will look like."
Mariana Haynes is a senior fellow at the Alliance for Excellent Education.
Categories:
Uncategorized