"An educated citizen is a healthy, productive, and happier citizen," said Bob Wise
Cutting the number of high school dropouts in half nationally would save $7.3 billion in annual Medicaid spending, according to a new report from the Alliance for Excellent Education. The report,Well and Well-Off: Decreasing Medicaid and Health-Care Costs by Increasing Educational Attainment, examines Medicaid spending for all fifty states and the District of Columbia on four key afflictions—alcoholism, heart disease, obesity, and smoking—as well as determines overall Medicaid savings. Support for the report was provided in part by State Farm® as part of a series of documents that demonstrates the economic benefits from improving high school graduation rates.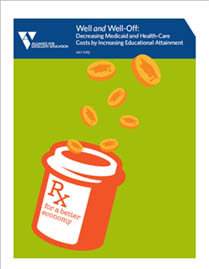 "An educated citizen is a healthy, productive, and happier citizen," said Bob Wise, president of the Alliance for Excellent Education and former governor of West Virginia. "And, as this report shows, healthier citizens are also a great benefit to the nation's economic health."
According to the report, the $7.3 billion in annual Medicaid savings breaks out to $900 million in preventative costs related to heart disease, $1.9 billion linked to obesity, $1.4 billion related to alcoholism, and nearly $2 billion associated with reduced smoking and tobacco use. To make the connection between high school graduation and health-care savings, the Alliance worked with Dr. Peter Muennig, assistant professor of health policy and management at Columbia University's Mailman School of Public Health.
Muennig's research shows that a high school graduate is about 50 percent less likely to use Medicaid compared to a high school dropout. Using that finding, he incorporated each state's specific contribution to Medicaid to produce an estimate of what would be saved for each additional high school graduate. Differences in contributions to Medicaid cause the annual savings per graduate to vary and savings per graduate range considerably by state, from a low of $777 in Utah to a high of $2,482 in Massachusetts. The report includes two tables that represent estimated savings for every state and the District of Columbia.
The health-related savings from graduating more students from high school extend beyond Medicaid savings, the report notes. In fact, the projected societal savings are even larger and are represented through improved productivity at work to decreased health problems and the freedom from pain and suffering caused by illness and disease. After accounting for these factors, the report pegs the societal savings to be nearly $12 billion in heart disease-related savings, $11.9 billion in obesity-related savings, $6.4 billion in alcoholism-related savings, and $8.9 billion in smoking-related savings.
"In the national effort to reduce health-care costs and boost health outcomes for individuals, dramatically increasing the number of high school graduates is a meaningful strategy," Wise said.
Previous research cited in the report also finds that, on average, high school graduates live six to nine years longer than dropouts. The report attributes high school graduates' longer life spans to several factors. For example, high school graduates are less likely to be employed in fields associated with health risks. They also generally can afford appropriate health care, or they work in jobs that provide health insurance, are more apt to follow doctors' instructions, have the ability to navigate medical bureaucracy, and have more access to health-related information on how to stay healthy.
The complete report, including a state-by-state breakdown of potential savings on Medicaid and health care, is available here.