"The Labor-HHS-Education bill is such an important bill, the largest non-defense bill this committee does, the bill that focuses on compelling human needs-health care, medical research, education, worker's rights, energy assistance," said Senate Appropriations Committee Chairwoman Barbara Mikulski
On July 11, the U.S. Senate Appropriations Committee approved a $164 billion Fiscal Year (FY) 2014 Labor, Health and Human Services (HHS), and Education appropriations bill. Of the total, $69.2 billion, which includes Pell Grants, is pegged for the U.S. Department of Education. Although the bill will not fund President Obama's high school redesign program, it would provide a significant increase for early childhood education, slight increases for Title I and special education, and $250 million for a new Race to the Top program that encourages states to improve college affordability, access, completion, and quality.
"The Labor-HHS-Education bill is such an important bill, the largest non-defense bill this committee does, the bill that focuses on compelling human needs-health care, medical research, education, worker's rights, energy assistance," said Senate Appropriations Committee Chairwoman Barbara Mikulski (D-MD). "I believe we must focus on reducing the public debt, but if that's all we do, then we risk creating other deficits-deficits in Alzheimer's research, deficits in education and access to child care, deficits in health-care programs. I believe this bill strikes the right balance."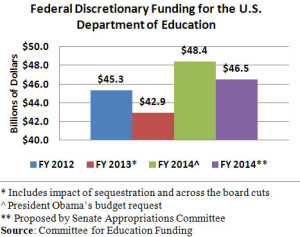 In FY 2012, the U.S. Department of Education received $45.3 billion in discretionary funding, which excludes Pell Grants, as shown in the graph to the right. In FY 2013, it received approximately $43 billion after multiple funding cuts due to the sequester, which imposed an across-the-board cut of 5 percent, and other spending cuts designed to reduce the deficit. The Senate bill would provide $46.5 billion in discretionary funding in FY 2014, which is $3.52 billion, or 5.4 percent, higher than FY 2013.
Even with the increase, most education programs would be funded at or near their FY 2012 levels. For example, Title I would receive $14.6 billion in the Senate bill, an increase of $100 million, or 0.7 percent, compared to FY 2012. Special education grants to states would increase from $11.6 billion in FY 2012 to $11.7 billion in FY 2014, an increase of 0.9 percent. Career and technical education would receive $1.1 billion, the same amount of funding it received in FY 2012.
Several programs would see meaningful increases, including School Improvement Grants, for which funding would increase from $534 million in FY 2012 to $567 million in FY 2014, a 6 percent increase; Striving Readers Comprehensive Literacy Program, which would receive an 8 percent increase and go from $160 million to $164 million; Investing in Innovation, which would increase from $149 million to $170 million; and Statewide Data Systems, for which funding would nearly double from $38 million to $75 million.
The biggest increases in the bill were reserved for early education. Taking a cue from President Obama, who proposed a ten-year, $75 billion program in his FY 2014 budget that would provide universal access to high-quality preschool for all four-year-olds from low- and moderate-income families, the Senate bill provides a combined increase of $2.56 billion for Head Start, the Child Care and Development Block Grant, and Preschool Development Grants, which combined serve children from birth through age five.
The Senate's proposed funding increases are different than what is in the president's proposed budget, which would create a federal-state partnership for early education in which the federal government would assume a significant share of the program's costs in its first years with states gradually assuming more responsibility over time. Obama would pay for the program through a 94-per-pack increase in taxes on cigarettes. The Senate has yet to develop legislation based on Obama's proposal, but the funding increases for early childhood education could be seen as a down payment on his plan.
"What this bill does is give our next generation the greatest chance at success," Mikulski said. "It does so by investing in Head Start, a program that provides health, nutrition, and social services to children in low-income families from birth to age five. We fund Early Head Start, which helps mothers deliver healthy babies and then supports those babies up to the age of three. We increase funding for Child Care Development Block Grants that help lower-income families afford child care for their children while parents are at work or school. And we fund universal pre-K, which supports the president's initiative to ensure that every four-year-old in this country can attend preschool."
Unlikely to garner the sixty votes needed to pass the Senate, the bill's future is unknown. Further complicating matters, the U.S. House of Representatives is working with a lower overall spending limit than the Senate. While the Senate would devote $164 billion for its FY 2014 Labor-HHS-Education appropriations bill, the House is only expected to provide $122 billion, meaning the Senate would need to cut funding for every program included in its bill by an average of 25 percent to match the House's level. Given this large gulf in spending targets, the likelihood of the two chambers achieving a compromise before the new fiscal year begins on October 1 seems remote. Instead, Congress will probably have to pass a continuing resolution-if not several-to temporarily fund the government until a compromise can be reached.
ESEA UPDATE: House Committee Passes NCLB Rewrite, Reconciliation with Senate Bill Could Prove DifficultDuring the week of July 15, the U.S. House of Representatives is expected to consider legislation to rewrite the Elementary and Secondary Education Act, currently known as the No Child Left Behind Act. The bill, named the Student Success Act, passed the House Education and the Workforce Committee on June 19 on a party-line vote, and according to House Education and the Workforce Committee Chairman John Kline (R-MN), it would "reduce the federal footprint" in education."Recognizing Congress must protect the autonomy of states and school districts, the Student Success Act includes several provisions to rein in the Secretary of Education's authority and prevent future federal overreach," Kline said in his opening statement on June 19. "In light of this administration's track record, expanding the Department of Education's control over schools would be the wrong approach. The legislation will also eliminate more than 70 federal programs tied to K–12 classrooms, end the rigid federal accountability metrics and overly prescriptive school improvement requirements, and grant states the freedom to develop their own plans to raise the bar."More information on the bill is available at https://all4ed.org/articles/esea-update-house-committee-passes-nclb-rewrite-reconciliation-with-senate-bill-could-prove-difficult-2/.