"We are proposing significant increases in key areas, as well as substantial savings from reductions in other programs," Spellings said
Two weeks ago, U.S. Secretary of Education Margaret Spellings defended President Bush's budget request for education before the Senate subcommittee that handles education appropriations. At the hearing, "scandalous," "insufficient," and "simply underfunded" were some of the words that subcommittee members used to describe the education budget. On March 9, in an appearance before the House Labor, Health and Human Services (HHS), and Education Appropriations Subcommittee, Secretary Spellings heard many of the same complaints.
"We are proposing significant increases in key areas, as well as substantial savings from reductions in other programs," Spellings said. "The result would be a discretionary total that is up more than $12 billion, or 29%, since fiscal year 2001."
While Secretary Spellings is correct, the lion's share of the increase came in fiscal year 2002, right after the No Child Left Behind Act was signed into law. Recent years, including President Bush's budget request for fiscal year 2007, reveal a far different picture, as the chart below illustrates. (Click on the chart to view a larger image).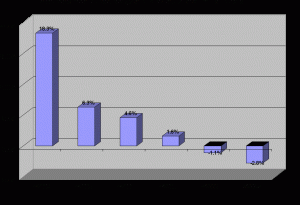 Source: U.S. Department of Education, Summary of ED Discretionary Funding FY 2001-2007, available athttp://www.ed.gov/about/overview/budget/budget07/summary/appendix1.pdf.
The declining percentages in the chart above have been a source of frustration for many members of Congress, particularly Representative David Obey (D-WI), the top Democrat on the subcommittee. In his opening statement at the hearing, Obey admitted that he was "more frustrated" with the administration on education than on any other issue. He gave President Bush credit for "living up to the deal" of No Child Left Behind in the first year of the law, but pointed out that the increases in education spending have been on the decline every year since and have culminated in a decrease for fiscal year 2007.
Obey also noted that the administration is selling its $1.5 billion high school initiative as new money, but said that roughly $200 million to $250 million is for testing, and that $535 million in spending for TRIO and $1.2 billion for spending for vocation and technical education were eliminated. He concluded by saying that, by his calculations, there "ain't no new money in that transaction for high schools."
After Obey expressed his misgivings about the president's budget, Representative Mike Simpson (R-ID) mentioned that this hearing was the first time that he could remember agreeing with something Representative Obey said. Simpson went on to say that "education is the most important thing we do," and took issues with the president's cuts to TRIO and vocational education, saying that both of those programs were achieving results. He also spoke about a perceived "blind spot" in the way the department handles No Child Left Behind. He said that the department should be more open to "common sense changes" about modifying the law. As a result, he said he was hesitant to embrace the president's High School Initiative, which would extend assessments and other requirements into high schools.
In response to a question from Subcommittee Chairman Ralph Regula (R-OH) on high schools and student performance, Secretary Spellings noted that there is a "positive trend line" in the early grades, but that student performance in high school is "flatter than a pancake" and has been for 30 years.
To help improve high schools, Spellings expressed a need for more information and data about what is going on in high schools. She also expressed a need for more rigor and remediation and said that the president's Striving Readers and Striving Math programs were designed to catch up students who performed below grade level. "When kids arrive in ninth grade reading at a fourth-grade level, they can't consume the coursework, become disaffected, and drop out," she said.
Chairman Regula also noted that the president's budget would eliminate funding for 42 education programs and asked how the department determined which programs to cut. In addition to making funding decisions based on the department's Program Assessment Rating Tool (PART), Spellings said that the president targeted programs that were "small in nature" and "didn't get to a critical mass in scale." She seemed to use $25 million as a cutoff point and said that it was hard to see "real reform at the national level" when a program only received $25 million annually.
Secretary Spellings's comments are available at http://www.ed.gov/news/speeches/2006/03/03092006.html.