"Students and educators routinely attest that exposure to AP's high standards helps prepare students for success in college."
The 7th Annual AP® Report to the Nation finds that although the overall number of high school graduates participating and succeeding in the Advanced Placement (AP) exam has increased, minority students are still underrepresented in both AP classrooms and within the group performing well. The College Board defines a successful AP experience as scoring a 3 or higher on a testing scale of 1 to 5.
"Students and educators routinely attest that exposure to AP's high standards helps prepare students for success in college," said Trevor Packer, vice president of the AP program for the College Board. "However, the likelihood of college success is significantly higher for AP students who score 3 or better. Accordingly, simply expanding AP course enrollments is not enough—this year's report provides additional data points on exam performance that can help each state take a closer look at how well they are preparing all of their students, during the middle school and high school years, for the rigors of college-level course work."
In 2010, a total of 853,314 seniors leaving high school reported taking an AP exam. According to the study, 508,818 of those students had a successful experience, which is nearly double the amount of students from the class of 2001. The number of minority students performing well has also doubled since 2001, with 11,911 more African American students, 41,000 more Hispanic students, and 1,207 more Indian/Alaska Native students scoring a 3 or higher. The number of low-income graduates with scores of 3 or higher has increased from 53,662 in 2006 to 84,135 in 2010.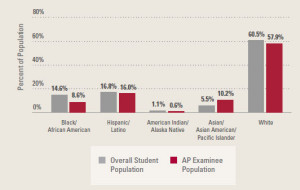 Despite these improvements, the demographics of AP student participation and success are still far from mirroring the demographics of the overall student population. As the chart to the right shows, African American students represent 14.6 percent of the national student population, but they only represent 8.6 percent of the AP examinee population.
The report compares the demographics of a state with the demographics of a state's successful AP student population to determine how well each state is preparing its students to succeed. This analysis shows that fourteen states have successfully eliminated the equity and excellence gap for Hispanic/Latino students, sixteen states have closed the gap for American Indian/Alaska Native students, and two states have closed the gap for African American students. However, the report notes that none of the states with substantial student populations in these demographics have eliminated these gaps.
Report to the Nation also provides state-by-state percentages of students in a graduating class who scored a 3 or higher. For the third year in a row, Maryland ranked first in the nation with 26.4 percent of its students performing successfully. New York (24.6 percent) and Virginia (23.7 percent) followed closely behind. On the other end of the spectrum are Mississippi (4.4 percent), Louisiana (4.6 percent), and North Dakota (6.8 percent). A number of states have made notable progress in the past five years; for example, Vermont experienced a 6 percent increase in the number of seniors scoring a 3 or higher on an AP exam during high school.
In order to expand AP participation and improve testing performance, the College Board recommends that states (1) enroll more willing and academically prepared students in AP classes, (2) hone existing practices to help an even greater proportion of college-bound students achieve success in AP, (3) increase access to and preparation for AP, and (4) build on successes in participation and ensure that more students are prepared for the rigors of AP. The report uses these four components to rate how well each state is currently providing students with AP opportunities and experiences.
To read the full report, visit http://apreport.collegeboard.org/.