On November 25, the U.S. Department of Education (ED) announced new regulations for teacher training programs geared at improving teacher preparedness in the classroom. Unlike previous regulations, the new codes of practice focus more heavily on outcomes, such as job placement and the retention rate of graduates, as well as the academic performances of their students.
"It has long been clear that as a nation, we could do a far better job of preparing teachers for the classroom. It's not just something that studies show—I hear it in my conversations with teachers, principals, and parents," said U.S. Secretary of Education Arne Duncan. "New teachers want to do a great job for their kids, but often, they struggle at the beginning of their careers and have to figure out too much for themselves. Teachers deserve better, and our students do too. This proposal, along with our other key initiatives in supporting flexibility, equity, and leadership, will help get us closer to President Obama's goal of putting a great teacher in every classroom, and especially in our high-need schools."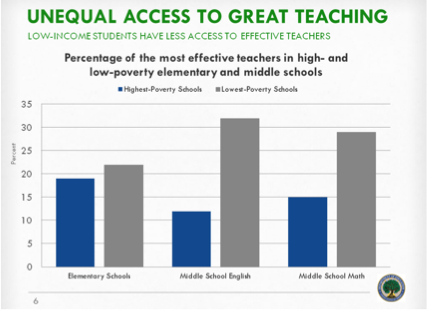 Comparable to the Council for the Accreditation of Educator Preparation's 2013 accreditation standards, the new ED rules intend to positively affect high-poverty schools, which experience both high rates of ineffective teachers (see ED's graph to the right) and high teacher turnover. In 2012–13, nearly 148,000 teachers in high-poverty schools changed schools or left the profession.
In July, the Alliance released On the Path to Equity: Improving the Effectiveness of Beginning Teachers, which finds that teacher attrition costs the U.S. roughly $2.2 billion annually. The report proposes several policies for improving teacher effectiveness, including regular evaluations of teachers using multiple measures. Under the proposal that ED released last week, states would follow more rigorous reporting systems, annually informing ED on the performances of teacher-preparation programs and alternative certificate programs, in turn allowing for more program transparency across school systems.
Not only does the proposal include greater transparency, it calls for a feedback loop among aspiring teachers, preparation programs, principals, schools, and states. ED believes the information will help prospective educators choose effective programs to train in high-demand teaching fields, assist schools in identifying the most effective programs to recruit from, recognize excellence to build on best practices, and help programs target their improvement efforts.
ED's proposed regulations include (1) performance reporting at the program level rather than the institutional level; (2) a change to the eligibility for Teacher Education Assistance for College and Higher Education grants for students considering becoming a teacher for a high-need field or low-income school; and (3) assessing teaching programs based on four performance-level indicators—exceptional, effective, at-risk, or low-performing.
States could use a variety of indicators to assess teacher preparation programs, but would be required to include new teacher placement and retention rates, surveys of teachers and employers, and student learning outcomes. States, however, would be permitted to assess traditional and alternative route programs differently in regards to placement and retention rates.
In statements, both major teacher unions—the National Education Association and the American Federation of Teachers (AFT)—disagree with the decision to include student test scores to evaluate teacher preparation programs.
"Teacher preparation programs that send graduates to teach in high-need schools, where research shows the test scores are likely to be lower and the teacher turnover higher, will receive lower ratings and could lose funding," said AFT President Randi Weingarten.
ED's proposed guidelines are slated to be finalized by mid-2015 following a 60-day period during which they will be open for public comment.
More information on the proposed guidelines are available at http://www.ed.gov/news/press-releases/us-department-education-proposes-plan-strengthen-teacher-preparation.