"Our economy can't succeed unless our young people have the skills that they need to succeed," Obama said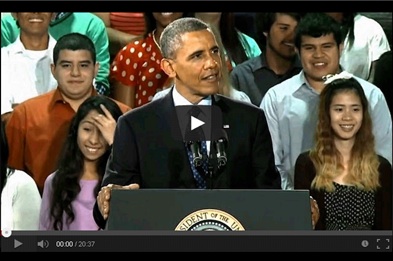 In a May 9 speech at Manor New Technology High School in Austin, Texas, President Obama called on Americans to rally around what he called the "single-greatest challenge" facing the nation—reigniting the "true engine of economic growth"—a rising, thriving middle class. He listed three things necessary to create more jobs and opportunity for the middle class: (1) making America a magnet for good jobs; (2) ensuring that hard-working people can achieve a decent living; and (3) helping people earn the education and develop the skills they need to succeed in good jobs. (Click on the image above to watch video of the president's speech).
"Our economy can't succeed unless our young people have the skills that they need to succeed," Obama said. "And that's what's happening here, right at Manor New Tech. There's a reason why teachers and principals from all over the country are coming down to see what you're up to. Because every day, this school is proving that every child has the potential to learn the real-world skills they need to succeed in college and beyond."
Manor (pronounced May-nor) New Tech is part of the New Tech Network, a group of 115 schools in eighteen states that are designed to foster students' abilities to understand core content and use their knowledge to think critically and solve problems, and to communicate effectively—the deeper learning competencies that are essential for their future. The school, like the others in the network, accomplishes this goal by integrating technology into every classroom and engaging students in a project-based approach that enables them to apply their learning to authentic situations.
Obama mentioned some of these projects in his address: "A history teacher might get together with a science teacher to develop a project on the impact of castles in world history and the engineering behind building castles. Or a group of students might be in charge of putting together a multimedia presentation about moral dilemmas in literature as applied in World War II." In addition, as the president noted, students take part in internships, which give them hands-on experiences in real work settings, and they give as many as 200 speeches during their school career, which develops their communications skills. "I can relate," Obama quipped.
In its short life—it opened in 2007—Manor has been enormously successful. With a highly diverse student body of which more than half receive free or reduced-price lunches, its students' scores on state tests exceed the state average, its graduation rate is greater than 90 percent, and its college-going rate is nearly 100 percent. And, as Obama pointed out, 60 percent of those college-bound seniors were the first in their families to go on to higher education.
But he also pointed out that the school accepts students by lottery, because demand exceeds the available capacity.
"Every young person in America deserves a world-class education," Obama said. "We've got an obligation to give it to them. And, by the way, that helps the whole economy. Every business in America [wants] to draw from the world's highest-skilled and most educated workforce. We can make that happen. But we're going to have to put our shoulder against the wheel and work a little harder than we're doing right now as a nation."
Obama outlined several education reforms he is pushing to meet this goal: (1) give every child in America access to high-quality, public preschool; (2) recruit and train 100,000 new teachers in science, technology, engineering, and math and help the nation's most talented teachers serve as mentors for their colleagues; (3) rethink and redesign America's high schools; and (4) make college more affordable.
Obama said Manor was a model for what a twenty-first-century high school should look like. He noted that the school's hands-on learning approach prepares its graduates for the demands of a high-tech economy. "What makes this place special is, is that there's all this integration of various subjects and actual projects, and young people doing and not just sitting there listening, so we've got to reward schools—like this onethat focus on the fields of the future, use technology effectively to help students learn, and are also developing partnerships with local colleges and businesses so that a diploma here leads directly to a good job," Obama said.
Obama laid down the challenge: "There are too many kids in America who are not getting the same kinds of opportunities, through no fault of their own. And we can do better than that. Every young person in America deserves a world-class education. We've got an obligation to give it to them."
A transcript of the president's speech is available at http://1.usa.gov/YSYZu3.
Portions of this article originally appeared in a blog post written by Alliance Senior Fellow Robert Rothman for the Alliance's "High School Soup" blog. Rothman's complete article is available at https://all4ed.org/blog/president_obama_sees_deeper_learning_action.