"We must continue to build on the reforms already transforming classrooms across the country," said U.S. Secretary of Education Arne Duncan. "Strategic investments in our educational system will not only provide more opportunities for millions of Americans, but they will strengthen our nation's workforce as well."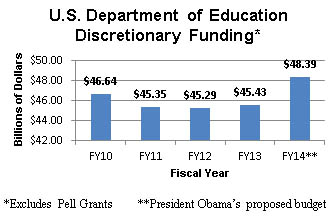 Released April 10, President Obama's education budget for Fiscal Year (FY) 2014 proposes new grant competitions focused on high school redesign and college completion and includes a $75 billion plan to provide access to high-quality preschool programs. Overall, the budget would provide $48.39 billion in discretionary funding—excluding Pell Grants—for the U.S. Department of Education, an increase of $2.8 billion over last year.
"We must continue to build on the reforms already transforming classrooms across the country," said U.S. Secretary of Education Arne Duncan. "Strategic investments in our educational system will not only provide more opportunities for millions of Americans, but they will strengthen our nation's workforce as well."
The centerpiece of the president's budget proposal is a ten-year, $75 billion program that would provide universal access to high-quality preschool for all four-year-olds from low- and moderate-income families and create an incentive for states to serve addition middle-class children. Called "Preschool for All," the program would function as a federal-state partnership in which the federal government would assume a significant share of the program's costs in its first years with states gradually assuming more responsibility over time. Obama would pay for the program through a 94-per-pack increase in taxes on cigarettes.
"Providing a year of free, public preschool education for 4-year-old children is an important investment in our future," Obama wrote in his budget message. "It will give all our kids the best start in life, helping them perform better in elementary school and ultimately helping them, and the country, be better prepared for the demands of the global economy. Not only that, it could save hard-working families thousands of dollars each year in child care costs. This is an investment we need to make, and it is fully paid for in this budget by imposing a new tax on every pack of cigarettes sold."
The president's budget also includes a $300 million high school redesign program that would "help redesign America's high schools to prepare students with the real-world skills they need to find a job right away or go to college." Specifically, the program would support competitive grants to school districts that partner with institutions of higher education (IHEs) and employers, including businesses and nonprofit and community-based organizations. It would give priority to partnerships in areas with limited access to quality college and career opportunities, such as high-poverty or rural school districts.
Projects supported under the program would (1) engage students in personalized learning opportunities tied to real-world experiences; (2) provide students with rigorous, challenging academic content aligned with college-level expectations, including programs that offer students access to college-level course work and opportunities to gain postsecondary credit while still in high school; (3) help students learn academic content plus career-related competencies, employability, and technical skills; and (4) offer meaningful college and career exploration opportunities and high-quality advisory services.
"Education must be relevant to employers and engaging for students," said Bob Wise, president of the Alliance for Excellent Education and former governor of West Virginia. "The president's high school redesign proposal will accomplish both by promoting partnerships between school districts and employers to align high school expectations with the demands of college and the workforce. Equally significant, the proposal highlights the importance of personalization and work-based learning. Giving students the opportunity to apply what they learn in the classroom to the real world will increase student engagement and graduation rates."
The president's budget also proposes a new $1 billion Race to the Top program to encourage states to improve college affordability, access, completion, and quality. The request would allow the U.S. Department of Education to fund up to ten states that commit to reforms in areas such as (1) sustaining fiscal support for higher education while modernizing funding policies to constrain costs and improve outcomes; (2) removing barriers that prevent the creation of innovative methods of student learning and new degree pathways; (3) empowering consumer choice through increased transparency; and (4) smoothing transitions into college and between IHEs.
"Skyrocketing costs are still pricing too many young people out of a higher education, or saddling them with unsustainable debt," Obama wrote. "And taxpayers cannot continue to subsidize higher and higher costs for higher education. To encourage colleges to do their part to keep costs down, the budget includes reforms that will ensure affordability and value are considered in determining which colleges receive certain types of federal aid."
Among existing programs, the president's budget proposes a $125 million increase for school turnaround grants, currently known as School Improvement Grants (SIGs). The increase would be used to fund a new competitive grant program to build school districts' capacity to support turnaround efforts and sustain improvements in schools that have received SIG funds. Up to $25 million of the funds could be used to expand the School Turnaround AmeriCorps, which uses AmeriCorps volunteers to build local capacity to implement effective school turnarounds.
The president's budget also proposes a $66 million increase for the Investing in Innovation (i3) Fund, a competitive program that helps to improve educational outcomes for students by developing, validating, and scaling up effective practices. An additional proposal is a $265 million increase for a variety of programs focused on Science, Technology, Engineering, and Math (STEM) education, such as a new STEM Master Teacher Corps that would recruit, train, and place recent college graduates and mid-career professionals in the STEM fields in high-need schools.
The Promise Neighborhoods program would receive a $240 million increase under the president's proposed budget as part of his "Ladders of Opportunity" initiative, which funds comprehensive, neighborhood-based plans for meeting the cradle-to-career educational, health, and social service needs of children in high-poverty communities.
Statewide Data Systems would receive $85 million, a $46.9 million increase over last year. Of the increase, $36 million would go toward new grants focused on early childhood data while $10 million would focus on postsecondary data initiatives designed to improve information on students as they progress from high school to postsecondary education and the workforce.
Among other education programs, Title I would receive $14.52 billion, the same amount received in FY13 and FY12. Special education would receive $11.58 billion, again the same amount received in FY13 and FY12. The budget also proposes to consoldiate some existing programs, including Elementary and Secondary School Counseling, which received $52.3 million last year, the High School Graduation Initiative ($48.8 million), and Striving Readers Comprehensive Literacy program ($159.7 million).
By consolidating programs, the president hopes to continue support for some of the eliminated activities while reducing duplication and improving program management. Programs slated for consolidation, however, have sometimes been eliminated by Republicans looking to reduce spending. For example, President Obama's FY 2012 budget proposed $383 million for a consolidated literacy program that included Even Start ($66 million), Literacy Through School Libraries ($19 million), National Writing Project ($25 million), and Reading Is Fundamental ($25 million); all were eliminated as part of deficit reduction efforts. In this year's budget, Obama proposes to combine Striving Readers and Ready-to-Learn Television—which received $27 million last year—into a single $187 million competitive program to improve literacy instruction, especially in high-need schools, for children from preschool through grade 12. Already, several members of Congress have sent a letter to the House Appropriations Committee asking to maintain funding for the Striving Readers Comprehensive Literacy program.
As it has done in past years, Obama's budget is likely to draw attention from federal lawmakers concerned that the president's budget invests too much into competitive programs at the expense of formula programs like Title I that flow equally to states.
"Budgets are aspirations; appropriations are implementation," said Bob Wise, president of the Alliance for Excellent Education and former governor of West Virginia. "The real challenge will be matching appropriations to aspirations."
A table containing program-by-program funding levels as proposed in President Obama's budget is available at http://www2.ed.gov/about/overview/budget/budget14/14pbapt.pdf
.