"While it's absolutely essential to live within our means, while we are absolutely committed to working with Democrats and Republicans to find further savings and to look at the whole range of budget issues, we can't sacrifice our future in the process."
Released on February 14, President Obama's Fiscal Year (FY) 2012 budget proposes spending $48.8 billion in discretionary funds for the U.S. Department of Education, a 4.6 percent increase over FY 2010.1
The increase for the Department of Education represents a sharp contrast to the funding cuts that Obama proposes for many other federal agencies. For example, the U.S. Department of Labor would receive a 27.2 percent cut compared to FY 2010 in the president's budget; the U.S. Departments of Housing and Urban Development and Commerce would also receive significant cuts in funding—15.5 percent and 13.9 percent respectively.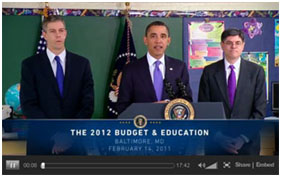 In a speech at Parkville Middle School and Center for Technology in Baltimore, Maryland, where he officially released his FY 2012 budget, Obama explained his rationale for increasing funding for education programs. (Click the image to the right to watch video from the speech).
"While it's absolutely essential to live within our means, while we are absolutely committed to working with Democrats and Republicans to find further savings and to look at the whole range of budget issues, we can't sacrifice our future in the process," Obama said. "Even as we cut out things that we can afford to do without, we have a responsibility to invest in those areas that will have the biggest impact in our future—and that's especially true when it comes to education."
The budget includes a $300 million increase for Title I and a $250 million increase for special education. It also provides $900 million for another round of Race to the Top grants. This year, however, only school districts, not states, would be eligible to participate in the competition.
Obama proposes $300 million for additional Investing in Innovation (I3) grants, $350 million for a new early education program, and $100 million—an increase of $41.7 million—for Statewide Data Systems. Most of the funding awarded under the Statewide Data Systems program would help states continue to expand and improve their data systems, including linkages between elementary, secondary, postsecondary, and workforce data systems.
For the School Turnaround Grants program, currently known as School Improvement Grants, Obama proposes $600 million, an increase of $54 million, or 10 percent. Under the proposal, states would make competitive grants to school districts to support rigorous turnaround efforts in the lowest-performing schools.
In a statement, Bob Wise, president of the Alliance for Excellent Education and former governor of West Virginia, credited the president for recommending additional investments in education during a "tough budget climate," but said these investments need to be paired with a reauthorization of the Elementary and Secondary Education Act, currently known as No Child Left Behind. "These new investments must be targeted where they are most needed and will be most effective; this is best done by a reauthorized Elementary and Secondary Education Act," said Wise. "I ask President Obama and the U.S. Congress to work as fast as possible on an agreement to reauthorize the law. It's the best step for our children and our economy."
House Education and Workforce Committee Chairman John Kline (R-MN) noted that the nation has increased its investment in education for forty-five years, but it has not seen a return on that investment in the form of improved student achievement. "Throwing more money at our nation's broken education system ignores reality and does a disservice to students and taxpayers," Kline said. "It is time we asked why increasing the federal government's role in education has failed to improve student achievement. I look forward to charting a new course in education that ensures Washington doesn't stand in the way of meaningful state and local reforms."
Obama's budget proposes to eliminate thirteen programs while consolidating an additional thirty-eight programs into eleven. "We are cutting where we can to invest where we must," said U.S. Secretary of Education Arne Duncan. "These are challenging times, but we can't delay investments that will secure our future. We must educate our way to a better economy by investing responsibly, advancing reform, and demanding results."
The thirteen programs slated for elimination received a combined $146.8 million in FY 2010 and include Leveraging Educational Assistance Partnerships (LEAP) ($63.9 million), Byrd Honors Scholarships ($42 million), and Exchanges with Historic Whaling and Trading Partners ($8.8 million).
Among the programs to be consolidated are the Striving Readers program, which received $200 million in FY 2010, and the National Writing Project, which received $25.6 million in FY 2010. These two programs would be consolidated under "Effective Teaching and Learning: Literacy," which would receive $383.3 million under the president's proposal. This new program would also absorb programs such as Even Start ($66.5 million in FY 2010), Literacy Through School Libraries ($19.1 million), Reading is Fundamental ($24.8 million), and Ready-to-Learn Television ($27.3 million).
Other programs to be consolidated include the High School Graduation Initiative ($50 million in FY 2010), Smaller Learning Communities program ($88 million), and Teacher Incentive Fund ($400 million).
The president also proposes to cut $265 million, or 21 percent, from the Carl D. Perkins Career and Technical Education Act. "Career education is vitally important to America's future, but we need to strengthen and reform our programs before expanding them," Duncan said.
Additional information on the president's budget proposal for the U.S. Department of Education, including funding totals for every program, is available at http://www2.ed.gov/about/overview/budget/budget12/summary/12summary.pdf.

1 Congressional negotiations on the FY 2011 budget are ongoing.