"High school graduation policies have important consequences for teaching, learning, and student achievement," said Linda Darling-Hammond
A multiple measures approach to graduation, in contrast to a single test, can provide broader means for students to demonstrate their learning, better strategies for schools to evaluate the full range of standards, and rich individualized information about student learning, according to a new report from Stanford University's School Redesign Network. Multiple Measures Approaches to High School Graduation argues that "multiple measures" approaches, which examine a range of options to demonstrate student proficiency-such as student portfolios, essays, and research projects-have helped to raise achievement, and have done so without increasing dropout rates, which is one of the concerns about test-only approaches to determine eligibility for graduation.
"High school graduation policies have important consequences for teaching, learning, and student achievement," said Linda Darling-Hammond, a professor of education at Stanford University, a member of the Alliance for Excellent Education's board of directors, and the lead author of the report. "It is important to balance tests with other sources of evidence and to encourage students to do real-world tasks that go beyond what can be measured with multiple-choice questions."
According to the report, as many as seven in ten public school students will have to pass an exit exam as a component of high school graduation by 2008. This growing dependence on exit exams has led to concerns over fewer incentives to keep struggling students in school, a narrowing of the curriculum, and reduced graduation rates, especially for minority students. In an analysis of the graduation rates of five states that made passing an exit exam a requirement for graduation, the report found that graduation rates dropped an average of three percentage points after states implemented the exams.
As concerns about the tie between exit exams and higher dropout rates have increased, most of the twenty-five states that have passed legislation that includes an examination as requirement for high school graduation have begun using the state examination as one of a combination of indicators to determine graduation readiness. These states use alternatives-such as student portfolios, scores on other tests (like the ACT or the SAT), or the combined evaluation of local assessments-along with the state test, thus allowing a student to demonstrate knowledge through performance. The report notes that states that introduced multiple measures systems of assessment have tended to maintain higher and steadier rates of graduation compared to states with test-only graduation exams.
Graduation Rates in States Requiring Multiple Measures Approaches to Graduation (click on the graph for a larger image)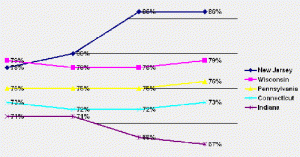 Source: Multiple Measures Approaches to Graduation, School Redesign Network at Stanford University.
"Most authorities argue that using a variety of measures to organize and assess student learning-including measures that represent real-life tasks rather than only multiple-choice and short answer items-provides broader, more complete, and more accurate understanding of what students know than is possible with traditional tests alone," the report reads. In addition, approaches that use essay examinations, research projects, or oral exhibitions encourage students to "master complex skills as they apply them in practice" and "ensure that students will have opportunities to practice the skills they need to use outside of school."
In addition to the benefits to the student, the report found that locally administered and scored performance assessments "help teachers better understand students' strengths, needs, and approaches to learning, as well as the expectations of the tests." These assessments also provide teachers with much more useful classroom information about their students and create the possibility that teachers not only will be able to "develop curriculum aimed at challenging performance skills" but also to shape their teaching in ways that are more effective for individual students. The report noted that the benefits of local assessments far outweigh those of the "external testing programs that send secret, secured tests into the school and whisk them out again for machine scoring that produces numerical quotients many months later."
The complete report describes the assessment systems currently in place in the states that use a multiple measures approach to high school graduation, including many states that combine state requirements with local performance assessments and other measures. This report is available at http://www.schoolredesign.net/srn/mm/mm.php.