On May 26, the Alliance released its brief, "A Time for Deeper Learning" at an event on Capitol Hill.  At the event, panelists discussed the practice of deeper learning and the federal policy implications of preparing all students for the demands of a rapidly changing global workforce and the economy.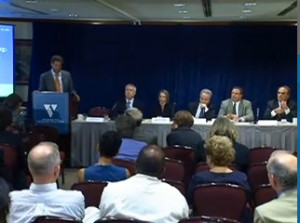 The event included Barbara Chow, program director for education, the William and Flora Hewlett Foundation; Michael J. Feuer, dean and professor, graduate school of education and human development, the George Washington University; Robert Lenz, cofounder and chief executive officer, Envision Schools; Deborah Parizek, executive director, Henry Ford Learning Institute; Scott Palmer, managing partner, EducationCounsel, LLC; David M. Steiner, Commissioner of Education, State of New York; Tom Wachnicki, director, New Tech School of IDEAS (Indianapolis, IN); and Alliance President Bob Wise. Access archived video from the event by clicking on the image to the right.
Additionally, the Alliance held a webinar in February 2011 that featured Barbara Chow and Andreas Schleicher, head of indicators and analysis division at the OECD's Directorate for Education. Chow and Schleicher provided an overview of deeper learning and discussed how deeper learning can increase economic opportunity and civic engagement in order to ensure that American students are rigorously prepared for success in a globally competitive workforce. In particular, Schleicher discussed the Programme for International Student Assessment and how it tests the skills associated with deeper learning. Watch archived video from February 24 webinar .