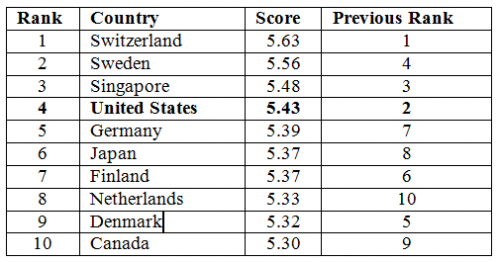 The United States fell from number two to number four in the World Economic Forum's (WEF) latest Global Competitive Index (GCI). As recently as 2008–09, the United States ranked first. The top ten countries in this year's ranking are in the table to the right.
The rankings are contained in The Global Competitiveness Index 2011–2012: Setting the Foundations for Strong Productivity, the latest of WEF's annual reports on the key factors that determine economic growth and explain why some countries are more successful than others in raising income levels and opportunities for their populations. Put simply, a more competitive economy is one that is likely to grow faster over time, the report notes.
In addition to the overall ranking, the report contains an extensive data section with a detailed profile for 142 countries, including global rankings for over 110 indicators that are divided into twelve pillars of competitiveness.1  By providing comprehensive listings of the main strengths and weaknesses of countries, the report makes it possible to identify key priorities for policy reform.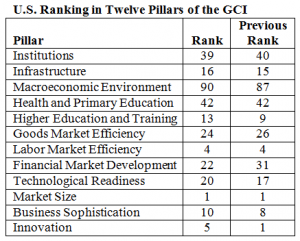 The report notes that the United States possesses many structural features that make its economy extremely productive, such as its excellent university system and sheer size, but it finds that a number of escalating weaknesses have lowered the U.S. ranking over the past two years. Specifically, the report notes the public does not demonstrate a strong trust of politicians (54th out of 142) and believes that the government spends its resources relatively wastefully (68th). The United States' lack of macroeconomic stability (87th), which includes repeated fiscal budget deficits and a growing public debt, continues to be its greatest weakness. According to the report, the United States ranks 139 out of 142 countries in government budget balance as a percentage of gross domestic product (GDP) and 132 in general government debt as a percentage of GDP. "It is clear that mapping out a clear exit strategy will be an important step in reinforcing the country's competitiveness going into the future," the report finds.
The Global Competitiveness Index 2011–2012 combines heath and primary education into a single pillar, but breaks out several education indicators, including quality of primary education and percentage of students enrolled in primary education, in which the United States ranks 37 out of 142 and 77, respectively. The report notes that basic education "increases the efficiency of each individual worker," while a lack of basic education can "become a constraint on business development." As nations look to reduce debt that has built up over the past few years, the report cautions that it will be "essential to avoid significant reductions in resource allocation to [health and primary education]."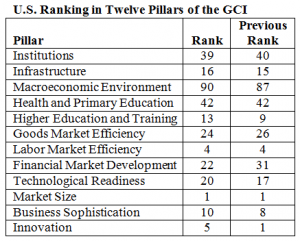 The fifth pillar, higher education and training, provides a much fuller picture of how the United States education system ranks in a global context. Rankings in this category are based on enrollment rates as well as the quality of education as evaluated by the business community. As shown in the chart above, the United States ranks 6 out of 142 in tertiary education enrollment, but has slipped in other categories, including secondary education enrollment, which declined five positions, and internet access in schools, which declined ten.
The complete report is available at http://www3.weforum.org/docs/WEF_GlobalCompetitivenessReport_2010-11.pdf.
 
1The twelve pillars of competitiveness are institutions; infrastructure; macroeconomic environment; health and primary education; higher education and training; goods market efficiency; labor market efficiency; financial market development; technological readiness; market size; business sophistication; and innovation.