"This week, for the first time in many years, the People's House was allowed to work its will—and the result was one of the largest spending cuts in American history."
At 4:40 a.m. on February 19, after days of contentious debate and hundreds of amendments, the House of Representatives passed a comprehensive spending bill that would keep the government running through Fiscal Year (FY) 2011, which ends September 30. The bill makes more than $60 billion in cuts, including a $5 billion cut to the U.S. Department of Education. The bill passed on a party-line vote of 235–189, with three Republicans joining 186 Democrats who voted unanimously against the bill.
According to an analysis prepared by House Appropriations Committee Chairman Hal Rogers (R-KY), more than fifty education programs would be cut under the House-passed bill. Specifically, the bill would cut Title I by nearly $700 million (4.8 percent); School Improvement Grants by $336.6 million; TRIO by $25 million; Gaining Early Awareness and Readiness for Undergraduate Programs (GEAR UP) by $19.8 million; and completely eliminate funding for Striving Readers ($250 million, in addition to a rescission of $189 million in previously appropriated funds), Small Learning Communities ($88 million), High School Graduation Initiative ($50 million), and Statewide Data Systems ($58.3 million). The bill would also reduce the maximum Pell Grant award from $4,860 to $4,015.
"This week, for the first time in many years, the People's House was allowed to work its will—and the result was one of the largest spending cuts in American history," said House Speaker John Boehner (R-OH). "Cutting federal spending is critical to reducing economic uncertainty, encouraging private-sector investment, and creating a better environment for job creation in our country. We will not stop here in our efforts to cut spending, not when we're broke and Washington's spending binge is making it harder to create jobs."
Prior to the House's passage of the bill, the Obama administration issued a statement strongly opposing the bill. "The administration does not support deep cuts that will undermine our ability to out-educate, out-build, and out-innovate the rest of the world," the statement read. "The bill proposes cuts that would sharply undermine core government functions and investments key to economic growth and job creation, and would reduce funding for the Department of Defense to a level that would leave the department without the resources and flexibility needed to meet vital military requirements."
The Senate is currently in recess but is expected to take up its version of the spending bill during the first week of March. Senate Democrats have also made clear their opposition to the bill, preferring to keep spending at FY 2010 levels for the remainder of FY 2011. That puts their spending target roughly $60 billion apart from that of Republicans in the House. The current continuing resolution (CR) is funding the government and due to expire on March 4. With that deadline looming, something will have to happen fast. One possible answer is another short-term CR that will keep the government running until House Republicans and Senate Democrats come to an agreement on a long-term solution. The other answer is to shut down the federal government.
At a news conference on February 17, Boehner appeared to be drawing a line in the sand. "I am not going to move any kind of short-term CR at current levels," he said. "When we say we're going to cut spending, read my lips: We're going to cut spending."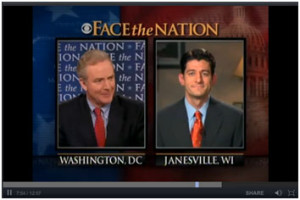 Appearing on CBS's "Face the Nation" on February 20, House Budget Committee Chairman Paul Ryan (R-WI) suggested that one option would be to enact a short-term extension with spending cuts that would allow the two parties to negotiate a solution. "We don't want to accept these extremely high elevated levels and so we're going to have to start negotiating on these things not just with the Senate but also with the president," Ryan said. "We're not looking for a government shutdown. And I think we'll have some negotiations with short-term extensions with spending cuts in the interim." (Watch video from the program by clicking on the image to the right).
Also on "Face the Nation," Representative Chris Van Hollen (D-MD), the top Democrat on the House Budget Committee, acknowledged the need to get the deficit under control, but he warned against the deep spending cuts contained in the House bill. "The question we've posed is, are you going to be reckless about this, or you are going to be responsible about this?" Van Hollen said. "The bipartisan commission on fiscal responsibility specifically warned against deep, immediate cuts in the year 2011. Why? Because it would hurt a fragile economy and put people out of work."