"This study shows clearly that providing quality education not only improves students' lives, but also saves taxpayers dollars," said Bob Wise
If the approximately 1.2 million young people who are expected to drop out of school in the United States this year were to earn their diploma instead, states could save more than $17 billion in heath care costs over the course of those young people's lifetimes. So says Healthier and Wealthier: Decreasing Health Care Costs by Increasing Educational Attainment, a new brief from the Alliance for Excellent Education that was funded by MetLife Foundation.
"This study shows clearly that providing quality education not only improves students' lives, but also saves taxpayers dollars," said Bob Wise, president of the Alliance for Excellent Education and former governor of West Virginia. "A high school diploma opens the door to physical health as well as financial health."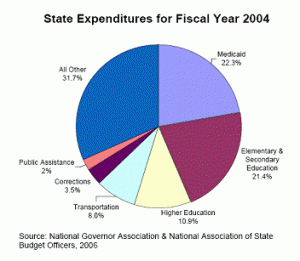 According to the brief, spending on health care has risen dramatically over the last few years as people are living longer, but the treatments they need to allow for longer lives are growing more expensive. Recently, health care expenses have even surpassed spending on K–12 education—traditionally the largest piece of a state's budget pie—as the largest item in states' budgets. As shown in the chart to the right, Medicaid alone accounted for approximately 22 percent of total state spending in FY 2004, slightly more than the 21.4 percent spent on elementary and secondary education.
According to the National Institutes of Health, individuals with lower income, less education, and lower-status occupations and employment have poorer health. Using this logic, Healthier and Wealthier postulates that raising educational levels would reduce health-related expenditures for the public sector, as well as for individuals.
According to research by Dr. Peter Muennig, assistant professor at Columbia University's Mailman School of Public Health, better educated people are less likely to receive Medicaid assistance and are more likely to be insured. In fact, he has shown that every student who graduates from high school, instead of dropping out without a diploma, will save states an average of $13,706 in Medicaid and expenditures for uninsured care over the course of his or her lifetime.
In an analysis commissioned by the Alliance for Excellent Education, Dr. Muennig applies his per-person-savings to the number of high school dropouts from the Class of 2006 in each state to determine the total lifetime health savings for that state were it to graduate every high school student. Savings for selected states appear in the chart below.
Lifetime Health Savings if All Students in the Class of 2006 Graduated from High School
| | | | | |
| --- | --- | --- | --- | --- |
| State | State Medicaid Savings per Additional Graduate | State Uninsured Savings per Additional Graduate | Total Health Savings per Additional Graduate | Total Lifetime Health Savings if All Students Graduated |
| Alabama | $9,216 | $896 | $10,112 | $244,976,155 |
| California | $14,637 | $724 | $15,361 | $2,325,813,659 |
| Illinois | $15,143 | $1,001 | $16,143 | $647,038,335 |
| Massachusetts | $15,143 | $731 | $15,873 | $363,462,657 |
| Michigan | $13,595 | $957 | $14,552 | $750,225,999 |
| Texas | $11,702 | $831 | $12,533 | $1,560,947,102 |
| Wyoming | $10,891 | $917 | $11,808 | $22,752,102 |
The brief also finds that, in addition to contributing to better physical health, better education improves earning power and social status and affects cognitive ability—both of which influence lifestyle choices, knowledge and understanding of health issues, and the health-related decisions that people make. For example, better educated people are more able to follow doctors' instructions successfully and to navigate medical bureaucracy. In addition, the occupations of people with lower educational attainment are generally more dangerous and expose workers to greater health hazards, from heavy machinery and chemicals to shifts that disrupt sleep cycles. On average, a high school graduate lives six to nine years longer than a dropout.
The brief concludes by saying that health care costs incurred by states could be greatly reduced if high schools around the country better prepared more students for the challenges of postsecondary education and the workforce. Higher educational attainment increases a student's future income, occupational status, and social prestige, all of which contribute to improved health. It argues that this potential public benefit is just one among a multitude of positive results that would accrue to society if America's educational system successfully educated all of its students—instead of allowing over one million youth to drop out without a diploma each year. "A citizenry that is not only healthier, but also wealthier and wiser, is an asset that every state, and the country as a whole, needs," it concludes.
The complete brief, as well as specific findings for each state and the District of Columbia, are available here.