"In an age when the world's information is a just click away, it demands that we bring our schools and libraries into the twenty-first century," Obama said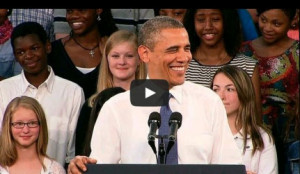 In a June 6 speech at Mooresville Middle School in Mooresville, North Carolina, President Obama announced "ConnectED," a plan to provide 99 percent of the nation's students with next-generation broadband and high-speed wireless in schools and libraries within five years. The plan would also ensure that every educator in America receives support and training to use technology to help improve student outcomes. To meet his goal, the president is calling on the Federal Communications Commission to modernize and leverage its existing e-Rate program for school connectivity in order to make a major capital investment in high-speed internet connections and employ them for connected classrooms. (Click on the image above to watch video of the president's speech.)
"In an age when the world's information is a just click away, it demands that we bring our schools and libraries into the twenty-first century," Obama said. "We can't be stuck in the nineteenth century when we're living in a twenty-first-century economy."
Obama said that only about 20 percent of U.S. students have access to true high-speed internet in their classrooms, far below countries like South Korea where 100 percent of students have high-speed internet. "In a country where we expect free Wi-Fi with our coffee, why shouldn't we have it in our schools?" Obama asked.
The Mooresville Graded School District was an excellent choice for Obama's announcement because the district implemented a digital conversion initiative in 2007, which included the deployment of an internet-accessible device for every student and teacher and a greater focus on changes in teaching and learning.
As noted in a June 2012 Alliance report, The Digital Learning Imperative: How Technology and Teaching Meet Today's Education Challenges, Mooresville's teachers and administrators participated in extensive, ongoing, and job-embedded professional development as part of the digital conversion. It taught them how to maximize the potential of the technology to personalize learning, including digital content and resources through which students can become creators of knowledge and products. Mooresville also moved to digital assessments that provide timely feedback to ensure the availability of data for planning and decisionmaking.
"If a student is falling behind, a teacher is seeing it in real time," Obama said. "It gives teachers the ability to see in real time what students need help, who is falling behind, and then offer extra help. If you've already mastered a lesson, you can move on to the next one. So as one teacher said, 'The thing I'm most proud of is not the technology, it's the relationships I can build with the students that I teach.'"
Thanks to these changes, Mooresville is now ranked third out of 115 school districts in North Carolina in student achievement based on state test scores, representing a dramatic jump from the bottom quarter of all districts just a few years ago. The district's high school graduation rate increased 25 percent in five years and is now the third-highest in North Carolina. Mooresville accomplished this with one of the lowest per-pupil expenditures in the state, ranking ninety-ninth out of the 115 districts.
"In today's ultra-fast, super-competitive global economy, all students and teachers need to be up to speed and connected to the information superhighway," said Bob Wise, president of the Alliance for Excellent Education and former governor of West Virginia. "Currently, however, far too many are stuck in proverbial traffic jams or idling at on-ramps because they lack access to high-speed internet connections.
"With this announcement, President Obama is making it possible for every school to build on the 'Mooresville momentum' and ensuring that all students are on the same track, moving at the fastest possible speed, and heading toward higher standards and better learning outcomes," said Wise.
More information on the president's ConnectED plan is available athttp://www.whitehouse.gov/sites/default/files/docs/connected_fact_sheet.pdf.