Eighteen states have high school graduation rates at or above 85 percent according to new data released last month from the U.S. Department of Education (ED). That number is up from sixteen states in the 2011–12 school year and nine in 2010–11.
"As a nation, it is critical that we prepare all students for success in college, careers, and in life," writes Joshua Pollack, special assistant to the U.S. Secretary of Education, in a blog post for Homeroom. "High school graduation is a vital point along that path, and the latest state-by-state graduation rates demonstrate our continued progress as a nation tackling this challenge."
The data, which represents the 2012–13 school year, was calculated using the adjusted cohort graduation rate (ACGR), a common graduation rate calculation that measures the percentage of students who successfully complete high school in four years and graduate with a regular high school diploma. Students receiving a high school equivalency credential, such as a General Educational Development (GED) credential, certificate of attendance, or any other alternative award, are not considered graduates under the ACGR. Prior to the development of the ACGR, states used several different graduation rate calculations that were unreliable because they frequently overestimated graduation rates and undercounted dropouts.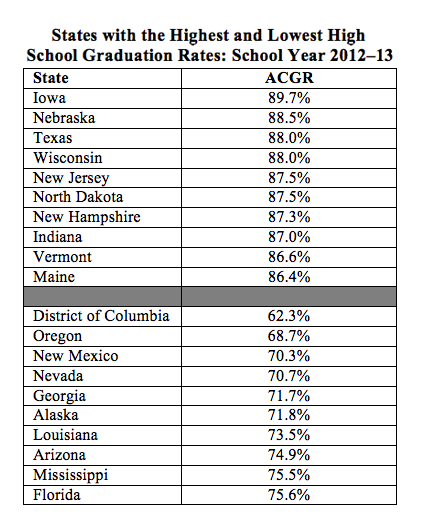 The data also includes graduation rates for students of color, low-income students, students with disabilities, and students with limited English proficiency.
Use ED's state table tool to explore the data further. Visit http://eddataexpress.ed.gov/, then click Build a State Table, followed by Achievement Data, Graduation Rate Data, and Regulatory Adjusted Cohort Graduation Rates: 2012–13.
In 2015, the National Center for Education Statistics will release a report updating the national on-time high school graduation rate for the 2012–13 school year using the ACGR.