"This effort in digital democracy is about ensuring that each child has access to a high-quality, personalized learning environment powered by digital learning and the effective use of technology."
On August 1, the Alliance for Excellent Education began an unprecedented digital process asking the American public to participate in developing major new state legislation designed to make digital learning and educational technology available to all students around the country.
The proposed draft legislation, titled the Each Child Learns Act, will help states think strategically about how to incorporate technology into their classrooms to boost student learning and increase professional learning opportunities for teachers.
"This effort in digital democracy is about ensuring that each child has access to a high-quality, personalized learning environment powered by digital learning and the effective use of technology," said Bob Wise, president of the Alliance for Excellent Education and former governor of West Virginia. "At the same time, it's about gathering input from the individuals most affected in the move to effectively implement technology to raise student outcomes."
Between now and November 1, 2012, the Alliance will be accepting public input on the proposed draft legislation at legislation@all4ed.org with the goal of making it a more valuable tool for policymakers and education professionals.
Driving the proposed legislation is the reality that the current U.S. education system cannot adequately prepare all students for the increasingly global economy. Instead of the current "one-size-fits-all" approach to educating students, the United States must move to an innovative student-centered instruction model that will personalize learning and prepare students for success in college and a career. For more than a year, the Alliance has been examining the types of legislative proposals every state will need to consider in order to make this transition.
The Each Child Learns Act outlines a student-centered education approach that focuses on developing personalized student paths for academic success and incorporating digital learning. The proposed draft legislation provides comprehensive planning, language, guidance, and timelines for states to use in transitioning to this more forward-thinking and modern public education system. A major principle of the legislation is that a more personalized learning experience, driven by strong teaching in combination with the effective use of technology, should be the basis for any transition to a system that embraces high-quality digital learning.
"This draft legislation is not about technology for technology's sake—simply slapping technology on top of a textbook will not move the education needle very much," said Wise. "Instead, it's about recognizing the great potential that effective technology has to transform the world of learning, particularly when it's combined with powerful teaching and rigorous content."
The proposed draft legislation lays out several main elements for states that are crucial to providing a personalized and high-quality digital learning opportunity for each student. They include
developing a comprehensive strategy;
transitioning to competency-based learning and eliminating "seat time" requirements;
utilizing formative assessments delivered by technology to track student progress;
providing teachers with enhanced continuing education and mentoring opportunities through the use of technology;
establishing a mechanism to track student data so each child can be on a personalized learning path;
helping all public schools to allow blended learning and other technology-enhanced instruction models;
offering high-quality online classes for students—particularly those who need credit-recovery assistance or have special situations;
writing strong policy safeguards into the law to carefully monitor the quality and accountability of providers; and
increasing opportunities for access to internet devices and required technology infrastructure, such as high-speed broadband connections.
The Each Child Learns Act recognizes that every state has different educational needs, and therefore provides language that is adaptable and applicable to most, if not all, states. Throughout the draft legislation, there are sections that include two different options so states can choose which is most appropriate for their situation.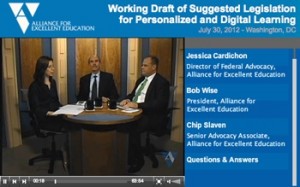 "Technology has made nearly everything in modern life more efficient, accessible, richer, and faster, yet students are frequently asked to 'power down' their smart phones, laptops, and other devices when they enter a classroom," Wise said. "It is my hope that this draft legislation encourages states to think about how to take advantage of this technology to help students 'power up' and use their interest in technology as a new way to learn."
On July 30, the Alliance held a webinar highlighting the recommended legislative actions and language that have been developed so far in the working draft. To watch archived video from the webinar, click on the image to the right or visit https://all4ed.org/webinar-event/working-draft-of-suggested-legislation-for-personalized-and-digital-learning-and-the-opening-of-a-public-comment-period/.
The full working draft legislative language for the Each Child Learns Act and an executive summary are available at https://all4ed.org/reports-factsheets/working-draft-of-suggested-legislation-the-each-child-learns-act/.