Findings from a new study indicate that unequal access to rigorous math content is furthering the divide between low-income students and their higher-income peers. According to "The Role of Schooling in Perpetuating Educational Inequality: An International Perspective," conducted by the American Educational Research Association (AERA), students from low-income families are more likely to be exposed to weaker math content in schools, and this curricular inequality is contributing to the persistent achievement gap between low- and high-income students, both in the United States and abroad.
Conducted using data from the 2012 Programme for International Student Assessment (PISA) administered by the Organisation for Economic Co-operation and Development (OECD), the study explores the relationship between students' opportunities to learn—which is driven by the course content they receive and their socioeconomic status—and their performance in math.
The results from study show that in the United States, more than one-third of the social class–related gap in student performance on the math literacy test was associated with unequal access to rigorous content. The other two-thirds of the gap were associated directly with students' family and community backgrounds.
"Our findings support previous research by showing that affluent students are consistently provided with greater opportunity to learn more rigorous content, and that students who are exposed to higher-level math have a better ability to apply it to addressing real-world situations of contemporary adult life, such as calculating interest, discounts, and estimating the required amount of carpeting for a room," said William H. Schmidt, a professor of statistics and education at Michigan State University and one of the study's authors. "But now we know just how important content inequality is in contributing to performance gaps between privileged and underprivileged students.
The study explains that methods such as tracking contribute to unequal access and create greater "within-school inequalities" in content coverage. Tracking separates students into less or more rigorous courses, often based on incorrect perceptions of a student's ability to learn that are driven by a student's appearance or background. The report cites other research describing how students from low-income families are often routed into classes with lower time on task and weaker instruction, damaging students' opportunity to learn and adding to educational inequality.
"There's a certain amount of tracking that still goes on," Schmidt told The Washington Post. "A lot of it is what I call shell games. If you look at transcripts, you'll see a school offers ten different kinds of Algebra classes—Algebra 1, Algebra A, B, and C and so on. And a parent thinks, 'Oh, my kid is doing fine, he's taking Algebra.' But upon closer examination, that student is getting something different. And it's showing up in our analysis quite strongly."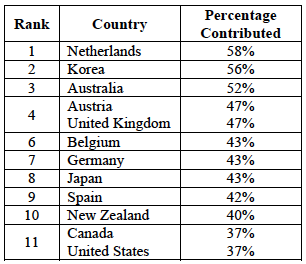 As shown in the table to the right from the study, the United States ranks eleventh among the thirty-three OECD-participating countries with 37 percent of total socioeconomic inequality contributed by unequal access to rigorous mathematics. Another author of the study, Nathan Burroughs, a senior research associate at Michigan State University, explained that the results of the research have implications for school officials, since content exposure is more subject to school policies than socioeconomic conditions.
In the Washington Post article, Schmidt names the Common Core State Standards as a possible solution, but he says the key to their success is how the standards are applied to the classroom and ensuring that all students receive the same content, especially in middle and high school, when he says that grouping by ability is most prevalent. "Almost 40 percent of social class inequality is coming through schooling," he says in the article, "If we can just figure out policies that can eliminate that, we can lessen (inequality) by 40 percent. That's one big thing we can do about it."
"The Role of Schooling in Perpetuating Educational Inequality" is available at http://bit.ly/1R18uiY.