"Obviously, this is a budget which is going to cause some significant angst amongst my colleagues, to be kind," Gregg said.
In a budget he said was designed to "meet the priorities of the nation and build on the progress of the last four years," President Bush on February 7 released a $2.55 trillion spending plan for fiscal year 2006. The president's budget would provide $56 billion in discretionary funding for the U.S. Department of Education-$600 million, or 0.9 percent, less than last year, and the first overall cut to the education budget in a decade.
Commenting on the president's budget request, U.S. Secretary of Education Margaret Spellings first praised the No Child Left Behind Act (NCLB) for helping the nation's schools make great strides toward ending the "soft bigotry of low expectations" and "ensuring that all children have the opportunity to learn." But she stressed that the job was not finished. "High schools are the portal to the future," she said. "A high school diploma must be a ticket to success in the twenty-first century. We've all seen the studies that show American students are losing significant ground in reading and math scores as they enter high school. We can do better, and our students deserve better."
$1.5 Billion High School Initiative Is a Shell Game
President Bush's budget request provided more details on his new $1.5 billion High School Initiative, and confirmed many education advocates' fears that the plan merely diverts existing federal funding streams for high schools rather than infusing the system with new money. The $1.5 billion cost of the new initiative would be covered by the elimination of a number of existing programs that fund high school activities:
Vocational Education State Grants and Vocational Education National Activities, funded at $1.3 billion in fiscal year 2005;
Tech Prep State Grants, funded at $106 million in 2005;
TRIO Upward Bound, funded at $313 million in 2005;
TRIO Talent Search, funded at $145 million in 2005;
GEAR UP, funded at $307 million in 2005; and
Smaller Learning Communities, funded at $95 million in 2005.
A quick check of the math reveals that the six programs slated for elimination in the president's budget represent $2.17 billion in funding-or $670 million more than what was proposed for the High School Initiative.
According to the Education Department's budget summary, the programs slated for elimination were, at best, unproven. "Few current Department programs that focus on high school have been able to demonstrate positive results, as is reflected in Ineffective ratings for programs like Vocational Education State Grants and Upward Bound," it read. Thus, the department's summary continued, it "made sense to redirect resources from such programs to the more comprehensive, coordinated, High School Initiative, which will measure student outcomes based on test data and graduation rates and hold states and participating school districts accountable for improved student educational outcomes for at-risk youth."
The president's budget requests large increases for Title I and the Individuals with Disabilities Education Act (IDEA), albeit at much lower levels than the $1 billion annual increases the president has proposed in the past. For fiscal year 2006, Title I would receive $13.34 billion-a $600 million increase, but still $9.41 billion less than the $22.75 billion authorized in NCLB. For IDEA, the president proposed $11.1 billion-an increase of $510 million over last year. At the same time, the president's 2006 budget would eliminate forty-eight education programs that received a total of $4.26 billion in funding last year. Thirty-three of these programs were targeted for elimination in the president's 2005 budget, but they still received funding from Congress.
Cuts in Education Funding Meet Bipartisan Opposition on Capitol Hill
Among members of Congress, many of whom will have to explain cuts in popular programs to their constituents when they run for reelection, Bush's plan to make significant reductions in domestic discretionary spending-in everything from education, veterans' benefits, and environmental protection to housing, agriculture, and transportation-could turn into a major political dilemma.
Senate Budget Committee Chairman Judd Gregg (R-NH) acknowledged that the president's budget was not likely to receive a warm reception on Capitol Hill. "Obviously, this is a budget which is going to cause some significant angst amongst my colleagues, to be kind," Gregg said. "But the fact that everyone's probably going to be upset by it, because everyone's ox gets gored . . . probably means they've done a good job."
Already, several members of Congress, from both parties, have questioned the president's decision to eliminate popular programs with proven results. According to the February 8 issue of Education Daily, "With elections in two years, many Republicans are considering their own reelection as much as the president's legacy. And several are unhappy with the proposed elimination of several popular programs, including Even Start, vocational education and Safe and Drug-Free Schools."
Moderate Representative Michael N. Castle (R-DE), chairman of the Education and the Workforce Education Reform Subcommittee, said many conservative House Republicans were opposed to an extension of the No Child Left Behind Act into high schools. "The likelihood of them being willing to expand it is not there at this time," he said at an NCLB forum sponsored by the Business Roundtable. "That's enough of a voting bloc, if not in the majority, in the Republican caucus that it is unlikely anything would move in that circumstance."
Castle said he and numerous other lawmakers also oppose the president's proposal to pay for his High School Initiative by eliminating federal funds for vocational education. "That adds an element of concern for the rest of us that has to be addressed," Castle said. He added that the House Education and the Workforce Committee's sentiment is "very strong in making sure vocational education is not left too far behind. I don't want to do the president's high school initiatives on the back of vocational education."
Representative Chaka Fattah (D-PA), the architect of GEAR UP, criticized the president's decision to eliminate funding for the popular program, which works with entire classrooms of low-income children to help prepare them for success in high school and college. "In 2001, the President's secretary of education-designate went before Congress and stressed the 'enormous benefit' of GEAR UP," Fattah said. "Now, four years later, with over one million students served by GEAR UP, it is imperative that we continue to fight for these future leaders and keep millions more students on the path to higher education. To cut this proven education initiative is both nonsensical and utterly irresponsible."
As the chart below shows, the U.S. Department of Education saw a huge increase in funding in the 2002 funding bill, which Congress passed shortly after enacting NCLB. However, in recent years, increases have grown progressively smaller. For fiscal year 2006, President Bush has proposed a $600 million cut in programs funded under the U.S. Department of Education.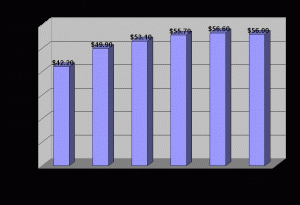 According to CQ Weekly, the way the 2006 budget and appropriations process plays out "may depend on whether Republicans are willing to make good on their anti-spending rhetoric and agree to politically risky sacrifices on spending with the knowledge that those sacrifices may not, in fact, make a real dent in the deficit." It notes that nondefense, non-homeland security appropriations account for only about one-sixth of the budget and that this slice of the budget has "been squeezed so much that there appears to be no way Congress will force it to make a significant contribution to further closing the budget gap."
Nonsecurity, Nondefense Discretionary Spending to Face an Overall Reduction in Spending for the "Foreseeable Future"
In a press briefing, Office of Management and Budget (OMB) Director Joshua Bolten explained that the president's budget would continue to focus on rebuilding and transforming the military while continuing to make the homeland safer. However, he stressed that given the goal of cutting the federal deficit in half by 2009, great spending restraint was needed in other areas.
"While committing these necessary resources to protecting America, the president and Congress have focused on spending restraint elsewhere in the budget," he said. "We succeeded in bringing down the rate of growth in nonsecurity discretionary spending each year of the president's first term. In the last budget year of the previous administration, nonsecurity discretionary spending grew by 15 percent. In 2005, such spending will rise by only about 1 percent."
In determining which programs to cut and which programs to fund, Bolten said that the president relied heavily on the Program Assessment Rating Tool (PART). Under PART, each program receives scores for "program purpose and design, strategic planning, program management, and program results" as well as an overall rating of "effective," "moderately effective," "adequate," "ineffective," or "results not demonstrated."
Of the fifty-six programs that the U.S. Department of Education has used PART to evaluate since 2004, two were rated effective, fourteen were adequate, five were ineffective, and thirty-five programs were "results not demonstrated." Interestingly enough, GEAR UP, one of the programs slated for elimination by the president, was one of the fourteen programs to receive an "adequate" rating. According to a 237-page report released by the Bush administration that details the programs slated for elimination or substantial cuts in the 2006 budget proposal, "no definitive data exists on GEAR UP's capacity to achieve its long-term performance goals."
According to the U.S. Department of Education's Fiscal Year 2006 Budget Summary, PART will continue to play a major role in future education budgets. "In the current fiscal environment, Federal discretionary programs not related to national defense or homeland security are facing an overall reduction in spending for the foreseeable future," the budget summary reads. "Accordingly, the Administration is using the PART in the annual budget process to better focus the Department's limited resources on those programs and activities most likely to achieve positive results for our educational system."
The U.S. Department of Education's Fiscal Year 2006 Budget Summary is available athttp://www.ed.gov/about/overview/budget/budget06/summary/index.html.
The Bush administration also released a report that details the programs slated for elimination or substantial cuts in the 2006 budget proposal. The report provides rationales for the administration's decisions to eliminate ninety-nine programs providing services such as vocational education, GEAR UP, and Smaller Learning Communities, and to greatly reduce funding for fifty-five programs, including adult education, housing for people with disabilities, job training, and juvenile justice programs. The report is available athttp://www.whitehouse.gov/omb/budget/fy2006/pdf/savings.pdf.
The $1.5 Billion High School Initiative at a Glance:
$1.24 billion for a High School Intervention initiative that would "focus on strengthening high school education and providing specific interventions, including assessment-based performance plans for each student, designed to improve the academic achievement of students at the greatest risk of not meeting challenging state academic standards and not completing high school."
$250 million to help states develop and implement new high school assessments in reading/language arts and mathematics. The proposal would provide formula grants to states to add annual assessments at two additional high school grades by the 2009-10 school year. The request also includes a $22.5 million increase for the National Assessment of Educational Progress (NAEP) to implement state-level assessments in reading and math at the twelfth-grade level in 2007.
A $175 million increase for the Striving Readers program that would "significantly expand the development and implementation of research-based interventions to improve the skills of teenage students who are reading below grade level."
$120 million for a new Secondary Education Mathematics initiative that would fall under the Mathematics and Science Partnership program and provide competitive grants to accelerate the mathematics learning of secondary school students.
A $22 million increase for the Advanced Placement program to "expand the availability of Advanced Placement and International Baccalaureate programs in schools with large populations of low-income students and to train teachers for those programs."
$12 million to build the capacity of the State Scholars program and "increase the number of states implementing State Scholars programs," which encourage high school students to complete a rigorous four-year course load. The proposal complements a $33 million request for Enhanced Pell Grants for State Scholars that would provide up to an additional $1,000 Pell award for students who complete a State Scholars program in high school.