"For education and for ESEA, I believe that this greatly shifts the deck," said Wise.
U.S. House of Representatives Speaker John Boehner (R-OH) abruptly resigned on September 25, injecting "turmoil" into the Republican Party and greatly complicating work to rewrite the Elementary and Secondary Education Act (ESEA), currently known as the No Child Left Behind Act (NCLB), according to Alliance for Excellent Education President Bob Wise.
"I can't say strongly enough the turmoil that this creates, both in the House of Representatives and with the legislative process but particularly in the Republican party," said Wise, who served in the U.S. House of Representatives for eighteen years, including 1989—the last time a speaker resigned. "There are now shifting alliances. The pro-Boehner people are going dark, the anti-Boehner people are jockeying for position, and even if a so-called moderate becomes the next Speaker of the House, he or she is going to have to depend upon the very forces that brought the Speaker down. For education and for ESEA, I believe that this greatly shifts the deck."
Appearing in the September 25 episode of "Federal Flash," the Alliance's five-minute video series on important developments in education policy in Washington, DC, Wise explained Boehner's deep familiarity with ESEA based on his prior experience as chairman of the House education committee responsible for passing NCLB, and how his resignation made rewriting the law a "much more difficult situation." "Remember this," Wise said, "it is the Speaker of the House who decides what legislation goes to the floor and under what conditions it's going to be considered. With Boehner's resignation, [House Education and the Workforce Committee Chairman John Kline's (R-MN)] ability to secure Republican votes for a bill that will have to satisfy both House Democrats and President Obama becomes slim to none."
Noting that the new speaker will need to "flex his or her conservative muscles," Wise said that the new speaker is unlikely to strike a deal with House Democrats and President Obama to pass ESEA even though it will likely take votes from Democrats to pass a bill that can receive approval from the U.S. Senate and President Obama.
Regarding the annual appropriations work that must be completed by the end of the fiscal year on September 30, Boehner's resignation has cleared the way for a short-term funding measure, called a continuing resolution (CR), that will keep the government open through December 11. Still, congressional Republicans and President Obama remain far apart on spending priorities for various federal agencies, including the U.S. Department of Education (ED).
Earlier this year, the U.S. House Appropriations Committee and the U.S. Senate Appropriations Committee passed Fiscal Year (FY) 2016 spending bills that would cut discretionary funding— excluding Pell Grants—for ED by $2.4 billion and $1.36 billion, respectively, compared to FY15. Under President Obama's FY16 budget request, funding would increase by $3.61 billion. (Click on the image below for a larger version).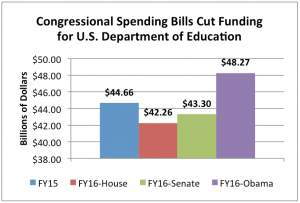 The Republican spending bills are based on levels set by the 2011 budget deal, also known as sequestration, and locked in by the budget plan that the U.S. Congress adopted in May. Under the plan, overall discretionary spending for FY16 can rise by less than 1 percent, creating a scenario in which a funding increase for one program often translates into a funding cut for another program.
According to the Washington Post, the temporary funding fix will provide Republicans with more time to "rewrite the stakes of coming budget negotiations to create a potentially explosive fight in December." The article notes that House Republicans have been "infuriated" with Boehner's and Senate Majority Leader Mitch McConnell's (R-KY) willingness to negotiate with Democrats on a long-term budget deal that would increase domestic and military spending above existing sequestration caps. Without a budget deal, Congress may have to enact a year-long CR that would keep funding for federal programs at the previous year's level.
"It appears that Boehner's sacrifice means that the government will stay open," Wise said. "This is a short-term legislative gain, but it ultimately creates even more long-term turmoil around pressing issues such as the debt ceiling, a transportation deal, and a long-term budget deal—not to mention ESEA."