"During my tenure as chairman of the FCC, there may be no bigger and more significant issue than making sure our schools and libraries are connected to high-speed broadband networks," FCC Chairman Wheeler said.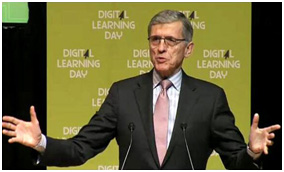 On February 5, Federal Communications Commission (FCC) Chairman Tom Wheeler announced major changes to the federal program that provides internet connections to the nation's schools and libraries during a Digital Learning Day event at the Library of Congress hosted by the Alliance for Excellent Education. Most significantly, the FCC would double its investment in high-speed broadband to $2 billion to connect more than 15,000 schools and 20 million students over the next two years.
Wheeler called the change to the E-rate program a "BIG DEAL" (emphasis his) and a "top priority" for him and the FCC. "During my tenure as chairman of the FCC, there may be no bigger and more significant issue than making sure our schools and libraries are connected to high-speed broadband networks," Wheeler said. "That is why E-rate modernization is at the top of my agenda and why I support President Obama's goal of connecting 99 percent of all students to high-speed broadband capacity in five years—or faster."
Wheeler outlined three principles that will guide the FCC in modernizing E-rate: (1) focus on high-speed connectivity to every school and library; (2) streamline the program to make it easier and more productive for schools and libraries; and (3) ensure sufficient resources are available, beginning with a $2 billion "down payment" to expand high-speed connections over the next two years.
To fund the $2 billion to be spent on high-speed connections beginning this year, Wheeler credited a "business-like approach" that "identified opportunities for greater productivity with the program," including "significant" improvements in the way funds are deployed. For example, Wheeler said that only about half of E-rate funds go toward broadband connectivity and less than half go toward the 100 megabits-per-second and higher speeds necessary for today's learning environments.
In the future, Wheeler said the FCC would "do what is appropriate" should it be necessary to increase the permanent funding levels for the E-rate program, which is capped at about $2.4 billion annually. He added that any funding change must be preceded by an assessment—already underway at the FCC—of how funds are used combined with a "fact-based" analysis of the needs of the program to meet its goals.
"I was recently at one middle school where the students told about how the network would crash if too many of them pushed 'Enter' simultaneously," Wheeler said. "They told of having to walk around the room holding their tablets up until they got a WiFi signal."
Wheeler outlined several management changes designed to connect more students to broadband more quickly. For example, the FCC would prioritize applications impacting the most students, including those submitted by large metropolitan areas as well as joint applications submitted by a consortium of several school districts. These changes will take effect immediately with Fiscal Year 2014 applications and will be completed by the end of March 2014.
"To those participating in the program, let me be clear, we will fund all Priority One services[1] in 2014, but one of the first ways to accelerate progress is to get cash that is already in the program working to support broadband projects more quickly," Wheeler said.
Later this spring, Wheeler hopes to issue an order to make other fundamental and structural changes to "effectively target high-capacity connections to all libraries and schools and to provide resources to make sure high-speed Wi-Fi delivers that connectivity within the classroom and library." Wheeler added that the FCC will release a public notice in the coming weeks seeking comment on several issues, including how to "appropriately phase-out legacy services, including low-bandwidth connections, and reprioritize on broadband." Wheeler's goal is to have this process completed before students return to classrooms in the fall.
A transcript and video of Wheeler's remarks are available at
http://www.fcc.gov/events/digital-learning-day-national-event.
For more information on E-rate and the need to connect schools and libraries to high-speed broadband, visit the Alliance's 99in5.org website.
---
[1] There are two categories of eligible services within E-rate: Priority One (wires into the building) includes local, long-distance, and wireless telephone services; leased high-speed data lines; internet access; web hosting; voice-over internet; and some installation of these services. Priority Two (connections within the building) includes cabling, routers, wireless network components, maintenance, and basic technical support.