"Even as we look to cut spending to bring down the deficit, which we must do, we also need to ensure that we get our priorities right."
While Congress continues to negotiate the spending levels for Fiscal Year (FY) 2011, U.S. Secretary of Education Arne Duncan appeared before the Senate Budget Committee on March 1 to discuss President Obama's FY 2012 budget request, which proposes a 4.6 percent increase for the U.S. Department of Education compared to FY 2010. Although Senators from both parties on the committee recognized the importance of education to the country's future, they pressed Duncan on the education budget, saying it also had to be part of the economic solution.
In his opening statement, Senate Budget Chairman Kent Conrad (D-ND) noted that the federal government is spending less on education as a percentage of the economy than it did in the 1960s due to growth in mandatory spending on entitlements such as Social Security and Medicaid.
"Even as we look to cut spending to bring down the deficit, which we must do, we also need to ensure that we get our priorities right," Conrad said. "And education needs to be a priority as we proceed with reducing government expenditure. We need to be careful not to cut education in a way that would come back to hurt the nations long-term economic growth and security. We simply must maintain a strong education system if we want to keep pace with our global competitors."
Senator Jeff Sessions (R-AL), Top Republican on the Senate Budget Committee, said that changes in technique, not changes in the budget, were what affected student outcomes. As evidence, he pointed to the Alabama Reading Initiative, a statewide K–12 literacy program that he said has transformed teaching, learning, and reading proficiency in Alabama at very little cost.
"All of us favor education, but we can't continue these large increases in spending—every dollar of which is borrowed," Sessions said during his opening remarks. "What we need is leadership that focuses on why our education system is not meeting our expectations. This funding crisis is an opportunity to challenge our education establishment, to thoroughly and honestly review the plain facts. What works and what does not. We owe that to our children for their education today. And we owe our children a country that is not burdened by crippling debt. The president says his budget is a plan for winning the future. But you cannot win the future for our children with borrowed money."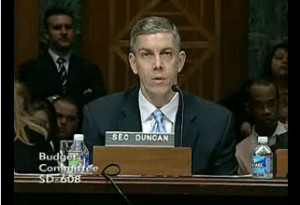 During his testimony, Duncan noted that the federal government contributes less than 10 percent of K–12 funding nationally, but acknowledged the need to be smart about the federal investment during a tight fiscal environment. (Click on the image to the right to watch video of the hearing).
"This proposed budget reflects the administration's dual commitment to reduce spending and to be more efficient while investing to secure our future. And at the very top of that list of investments we must make is education," Duncan said. "Americans know that even in challenging times, particularly in challenges in fiscal times like this. We must prepare our young people to compete in tomorrow's economy. They know that, even the states face greater financial pressure than at any time in recent history. We cannot put our children and our country's future at risk."
During the question-and-answer session that followed Duncan's testimony, Senators focused on the growth in the Pell Grant program; low college completion rates; Race to the Top; the reauthorization of the Elementary and Secondary Education Act, currently known as No Child Left Behind; and the unique problem of educating middle school students, among other topics.
Video of the complete hearing is available at http://1.usa.gov/fgDwcl.