"The term 'deeper learning' may be new, but its basic concepts are not."
Policy and practice at the local, state, and national levels should support the concepts of "deeper learning" to help all students meet higher expectations and be prepared for college and a career, according to a new policy brief from the Alliance for Excellent Education. The brief, "A Time for Deeper Learning: Preparing Students for a Changing World," argues that deeper learning provides students with the deep content knowledge students need to succeed after high school and the critical thinking, collaboration, and communication skills that today's jobs demand.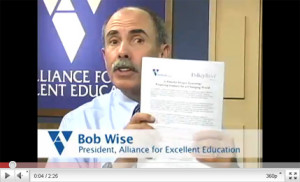 "The term 'deeper learning' may be new, but its basic concepts are not," said Bob Wise, president of the Alliance for Excellent Education and former governor of West Virginia. "Deeper learning is what highly effective educators have always provided: the delivery of rich core content to students in innovative ways that allow them to learn and then apply what they have learned." (To hear more from Gov. Wise on the Alliance's deeper learning brief, click on the image to the right.)
According to the brief, today's increasingly complex world requires that young people learn more, process more, and produce more, but the nation's education infrastructure is not currently designed to support these increasing demands. As evidence, the brief points to results from the Programme for International Student Assessment (PISA) showing that American students trail their peers from other developed countries in using their knowledge to solve problems in key subjects like reading, math, and science.
"A Time for Deeper Learning" argues that American schools tend to offer a two-tiered curriculum in which some students—primarily white and relatively affluent—have had opportunities for deeper learning, while others—primarily low-income and students of color—have focused almost exclusively on basic skills and knowledge. It finds that the nation's prosperity in the near future will depend more than ever on students from underserved groups.
There are hundreds of schools across the country that are successfully incorporating deeper learning principles and are seeing promising educational results, the brief finds. For example, Envision Schools, which operates four urban high schools in the San Francisco Bay area, educates predominately disadvantaged students, the majority of whom are first-generation college bound. In 2008, 95 percent of Envision graduates were admitted and have stayed in college.
Although individual schools and systems are successfully applying deeper learning and can demonstrate its effectiveness and practicality, bringing such experiences to all students is a formidable undertaking. However, as the brief notes, supportive policies such as the adoption of common core state standards that help to ensure college and career readiness, the development of next-generational assessments aligned to those standards, and recent developments in educational technology indicate that policymakers are starting to come together on the changes and investments that are needed.
The brief observes that the upcoming reauthorization of the Elementary and Secondary Education Act (ESEA), currently known as No Child Left Behind, presents a unique opportunity for federal policymakers to create opportunities for states and districts to put into place the kinds of policies and practices that a deeper learning environment requires. It outlines policy actions that support deeper learning in five different areas—standards, assessments, accountability, professional development and teaching practice, and state-level polices—and provides a picture of what deeper learning might look in the classroom.
The complete brief is available at here