April is Month of the Military Child: Resources for educators
On the metro the other morning, "You Make Me Feel So Young" by Frank Sinatra played on my iPod, and the tune put me in a rather sunny disposition. It crossed my mind that a fellow military spouse volunteer had recently reminded me that April is "Month of the Military Child." As a military spouse without children, I wondered – how could I contribute to the month? What could I add to the education and well-being of military children?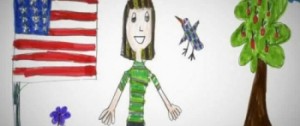 It occurred to me that maybe I'm not the only one confronted with the will to help military children. I just need some finesse with how to approach the issues. Educators in the Alliance for Excellent Education's community may also need insight to helpful resources.
Military children are affected by mobility issues, lengthy family separations, frequent transitions, even trauma and loss. Here are listings of useful resources for school district guidance counselors and other professional educators, social workers, and community professionals, as well as other caring adults interested in learning more about improving the education of military connected-children and youth.
Military Child Education Coalition provides tools for professional development so that educators can learn to incorporate techniques to help military connected students thrive in ideal or challenging times. Take a look at their release of Education of the Military Child in the 21st Century (EMC-21) and the impact school policies, systems and processes have on military children's education.
SchoolQuestTM Library is stocked with great resources to answer questions about educational transitions, college and workplace readiness, special needs and many other subjects.
The National Military Family Association commissioned the RAND Corporation to perform research on kid's deployment experiences. Find out what the studies revealed.
On a lighter note, here's a way to get FREE connections to events through the Blue Star Families Mil-Kids program to help boost your military child's morale!
As a military community, once we educate our educators, we can link their knowledge to that of the parents and bridge the gap between what military students need on the home front and at school.
Jenny Cline is the office assistant at the Alliance for Excellent Education and a military spouse volunteer.

Categories:
Uncategorized